I received this book for free from Netgalley in exchange for an honest review. This does not affect my opinion of the book or the content of my review.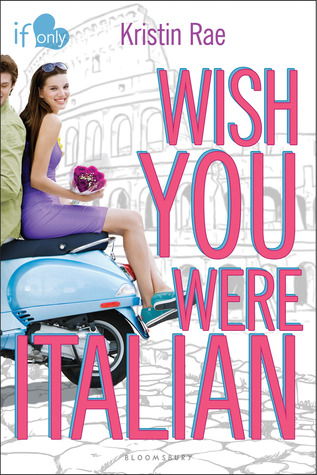 Wish You Were ITalian by Kristin Rae
Series: If Only ... #2
Published by Bloomsbury Publishing USA on May 6, 2014
Genres: Contemporary, Romance, Young Adult
Pages: 323
Source: Netgalley
Goodreads

Pippa has always wanted to go to Italy … but not by herself. And certainly not to sit in art school the entire summer learning about dead guys' paintings. When she steps off the plane in Rome, she realizes that traveling solo gives her the freedom to do whatever she wants. So it's arrivederci, boring art program and ciao, hot Italian guys!

Charming, daring, and romantic, Bruno is just the Italian Pippa's looking for—except she keeps running into cute American archeology student Darren everywhere she goes. Pippa may be determined to fall in love with an Italian guy … but the electricity she feels with Darren says her heart might have other plans. Can Pippa figure out her feelings before her parents discover she left the program and—even worse—she loses her chance at love?
Today I continue my foray into contemporary romance with Wish You Were Italian by Kristin Rae.  This book is YA contemporary that is cute, sweet, heart-breaking at times, and oh so romantic.  This review will be short and sweet for a book that is the same.  Wish You Were Italian is about a young woman who is kind of forced to go to Italy, the summer before her senior year, to attend a program in art history.  The only problem, Pippa is not that into art history. She is ready for this summer to be the worst summer of her life. When she actually gets to Italy she realizes that hello, she is in Italy. There is so much for her to see, and for the first time in her life there are no parents telling her what to do.  She hatches a plan to bail out on the program and travel all over Italy on her own, seeing the sights and taking pictures.
I love books that have travel in them, and I really liked seeing Italy through the eyes of Pippa.  I thought the descriptions were beautiful and this book really made me feel like I was in Italy.  I thought at times Pippa was a little naïve because she meets a girl and goes to stay with her after only day of knowing her.  I didn't blame her friend for worrying because Pippa was very lucky in that all the people she meets and takes off with are truly good people.  It did annoy me that Pippa was even at times torn between two boys because I could see the boy she chose in the end was right for her all along.  Then something happens and Pippa has to go suddenly.  That part did bring tears to my eyes because I could sympathize.
In the end, I liked the ending of this book.  I like a good book that leaves me on nice cloud of happy.  I really liked Wish You Were Italian.  I give Wish You Were Italian four stars.  It is one those cute fun reads that great for the beach or sunny days reading in the backyard.
GIVEAWAY!!!
Welcome to another great giveaway at Romancing the Laser Pistol. We are proud to be giving away an amazing prizepack including signed copies of Wish You Were Italian and Side Effects May Vary. Good luck to everyone and happy reading.