This review contains spoilers. Read at your own risk.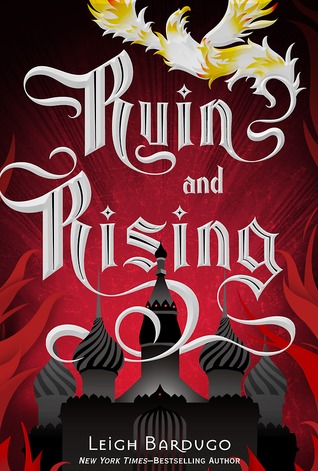 Ruin and Rising by Leigh Bardugo
Series: The Grisha #3
Published by Henry Holt and Co. on June 17th, 2014
Genres: Fantasy, Young Adult
Pages: 417
Source: Purchase
Goodreads


Amazon •
The capital has fallen. The Darkling rules Ravka from his shadow throne.

Now the nation's fate rests with a broken Sun Summoner, a disgraced tracker, and the shattered remnants of a once-great magical army.

Deep in an ancient network of tunnels and caverns, a weakened Alina must submit to the dubious protection of the Apparat and the zealots who worship her as a Saint. Yet her plans lie elsewhere, with the hunt for the elusive firebird and the hope that an outlaw prince still survives.

Alina will have to forge new alliances and put aside old rivalries as she and Mal race to find the last of Morozova's amplifiers. But as she begins to unravel the Darkling's secrets, she reveals a past that will forever alter her understanding of the bond they share and the power she wields. The firebird is the one thing that stands between Ravka and destruction—and claiming it could cost Alina the very future she's fighting for.
Holy bajeezus, you guys. I've been waiting for this book with everything in my being. Now that it's over, I feel a bit vexed. It was well written and lovely and a wonderfully choreographed dance of words on the page, but I'm being absolutely petty about the plot.
Yes, I'm not going to be able to get through this without spoilers. This is the end of the road, the end of the series and all that came before it is technically a spoiler for those who haven't read the series. Read this at your own risk! I am not responsible for your sullied mind after this point.
Half of the book is all of the characters mustering into position to talk about FINALLY going to hunt the firebird. There's some little bits to keep us interested. We get an interesting reintroduction to Sturmhond and a really compelling but horribly depressing story from Baghra. Not to mention, there's a rapist to deal with and some overzealous followers. But, it still took quite a bit of time to get to the main meat of the storyline.
Once there, the shockers happen. Leigh Bardugo took a page from George RR Martin's playbook and held no mercy. Characters are ripped limb from limb, plummet to their death and, most upsettingly, get turned into a semi-sentient volcra-esque being. That wasn't okay. As it was one of my favorite characters, I was more than a little distraught. Granted, he got better!
On their hunt for the firebird, they find out one of the love interests is, in fact, the third artifact, because genetics. Of course, they don't spectacularly kill his annoying ass and fashion his bones into a power bracelet, because that would be mean. In fact, despite killing him, he also gets better and she ends up marrying him and having the most bittersweet happily ever after I've ever read.
Argh. So, everyone on Team Mal should be quite happy. I should have seen it coming, as the beginning and the end of each book talked at length about their adventures.
Don't let my mild annoyance deter you, though. I 'm seriously bitter. Make that a testament to Leigh Bardugo, that she can make me care that much that I actually am mad when things don't go my way. This rarely happens. I can count my ships on one hand.
Overall, as a series, this was a great ride. In my review for Shadow and Bone, I mentioned that it gave me a feeling of nostalgia and reminded me a lot of the Mercedes Lackey and Tamora Pierce books I read in middle school. This still holds true and I would implore anyone who did similarly to read this series and revel in the warm fuzzies that the writing induces.