I received this book for free from Audible, Edelweiss in exchange for an honest review. This does not affect my opinion of the book or the content of my review.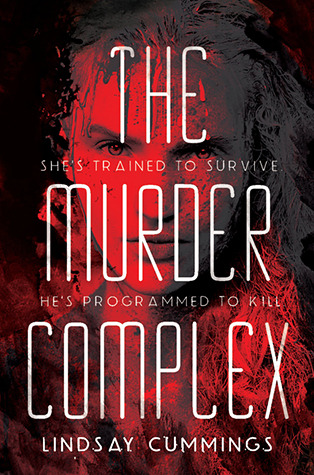 The Murder Complex by Lindsay Cummings
Series: The Murder Complex #1
Published by Greenwillow, HarperTeen on June 10, 2014
Genres: Fiction, Young Adult
Pages: 398
Source: Audible, Edelweiss
Goodreads


Amazon •
An action-packed, blood-soaked, futuristic debut thriller set in a world where the murder rate is higher than the birthrate. For fans of Moira Young's Dust Lands series, La Femme Nikita, and the movie Hanna.

Meadow Woodson, a fifteen-year-old girl who has been trained by her father to fight, to kill, and to survive in any situation, lives with her family on a houseboat in Florida. The state is controlled by The Murder Complex, an organization that tracks the population with precision.

The plot starts to thicken when Meadow meets Zephyr James, who is—although he doesn't know it—one of the MC's programmed assassins. Is their meeting a coincidence? Destiny? Or part of a terrifying strategy? And will Zephyr keep Meadow from discovering the haunting truth about her family?

Action-packed, blood-soaked, and chilling, this is a dark and compelling debut novel by Lindsay Cummings.
I actually got this book as an e-Arc, but I didn't have time to read it so I bought the audio book right when it came it out. My first thought after finishing the audio book of The Murder Complex was I didn't hate it, but I didn't love it either. It was one of those books that was either very interesting or very slow. I don't know if it was just me, but sometimes I found myself right on the edge of my seat and other times I found myself tuning out the book and running my grocery list through my head. I give The Murder Complex three stars and a shrug because it was an ok book.
The book is about a girl named Meadow whom all her life has been training to survive in a world where the Murder rate is at all-time high. Then she meets Zephyr a boy that is a programmed assassin only he doesn't know it. This book is your typical action packed dystopian novel complete with government conspiracies. Does it add anything new to the genre? No.  But, let's face it, it is hard to be a fresh voice in a genre that with the success of so many other books is very full right now. What does The Murder Complex offer? Entertainment. It was chocked full of action. I liked that Meadow doesn't just talk about how she can kill with her bare hands. Meadow can kill with her bare hands. On the other hand the conspiracies were a little predictable and I saw them coming a mile away. It kind of reminded me of an anime I watched once that was about weapon runners. The anime was funny and but then I would roll my eyes when it got preaching about gun control. That is how The Murder Complex is: entertaining, full of action, but also full of eye rolling revelations.
In the end I didn't feel like I wasted my time with this book but at the same time I am not going tell every person I meet on the street to read this book. The Murder Complex is also told in alternate points of Meadow and Zephyr so I liked the audio book had two different narrators to read those chapters. I thought that both Caitlin Davies and Josh Hurley do a good job reading for Meadow and Zephyr. I probably will check out the book because while I wasn't surprised or shocked by the end.  I am curious enough to see where it goes.