I received this book for free from Netgalley in exchange for an honest review. This does not affect my opinion of the book or the content of my review.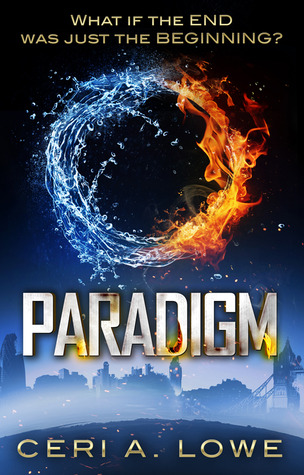 Paradigm by Ceri A. Lowe
Series: Paradigm #1
Published by Bookouture on June 13th, 2014
Genres: Science Fiction, Young Adult
Pages: 382
Source: Netgalley
Goodreads

What if the end of the world was just the beginning?



Alice Davenport awakens from a fever to find her mother gone and the city she lives in ravaged by storms – with few survivors.





When Alice is finally rescued, she is taken to a huge underground bunker owned by the mysterious 

Paradigm Industries

. As the storms worsen, the hatches close.



87 years later

, amidst the ruins of London, the survivors of the Storms have reinvented society. 

The Model

 maintains a perfect balance – with inhabitants routinely frozen until they are needed by the 

Industry

.



Fifteen-year-old Carter Warren

 knows his time has come. Awoken from the catacombs as a contender for the role of Controller General, it is his destiny to succeed – where his parents failed.





But Carter soon discovers that the world has changed, in ways that make him begin to question everything that he believes in. As Carter is forced to fight for those he loves and even for his life, it seems that the key to the future lies in the secrets of the past...
One thing this book taught me? How to spell paradigm. Wow.
I'm really surprised that no one else on my Goodreads friend's list has read this book or even have it on their radar. I've been somewhat burnt out on dystopia for the past year or so because nothing can quite live up to the one's that are attempting to be emulated. Paradigm has a 1984 vibe, where everyone in the community does only useful things and frivolous creativity is no longer allowed and deemed dangerous. Inventing is okay, but art and music and selfish things that detract from the community are not.
The book takes place on two timelines and follows two characters. Carter Warren is a contender, able to showcase his skills and become the next leader. Unfortunately, he's been pretty much been groomed for this his whole life and is quite cocky. There's so many interweaving parts to Carter's story that it's impossible to go through them without giving away the finer points of the plot. Just know that everything he knows is a lie and that people are bastards.
The other timeline follows 11-year old Alice Davenport from the start of the devastating storms to the beginning of building a new community. Her survival is very precarious through the first days and she was determined to make a new start in the underground bunker known colloquially as the Ship. She ends up eventually becoming one of the pillars whom held tight to a vision of a useful society, free of distractions.
The storms themselves are interesting, a biblical type sending that raises the water level several stories and sends civilization into a riot. If people weren't drowning, they were brained by hailstones or suffered from dehydration and starvation. Only when the water starts to recede, does anyone even fathom rebuilding society, allowing the nubile young minds to shape it.
I thoroughly enjoyed the book; I was confused for the better part of the beginning chunk of Carter's storyline, but kept enamored by the destruction going on in Alice's. There was one extremely disturbing bit involving Carter (slipped something himself) pretty much date raping a girl who's mother had been paid off in order for Carter to be allowed the privilege.  Not that Carter remembers it, he was being manipulated yet again. But the implications are still awful.
Toted as the first in a trilogy, I'm excited to see where Ceri Lowe takes the story. Does she continue to offer insight about the future from the past and Alice's point of view, or will she drop Alice all together and pick up with someone new? I can't wait to find out. A great debut and an interesting dystopian story, standing out in a sea of similar books (even if it's got a Divergent copycat cover).