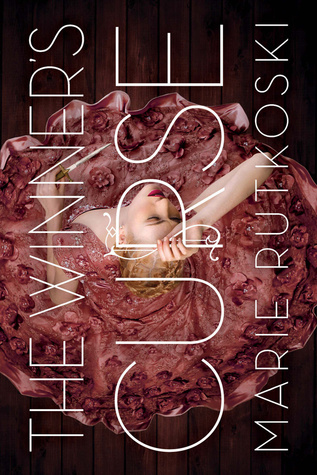 The Winner's Curse by Marie Rutkoski
Series: The Winner's Trilogy #1
Published by Farrar Straus Giroux on March 4th, 2014
Genres: Fantasy, Young Adult
Pages: 355
Source: Purchase
Goodreads


Amazon •
As a general's daughter in a vast empire that revels in war and enslaves those it conquers, seventeen-year-old Kestrel has two choices: she can join the military or get married. But Kestrel has other intentions.

One day, she is startled to find a kindred spirit in a young slave up for auction. Arin's eyes seem to defy everything and everyone. Following her instinct, Kestrel buys him—with unexpected consequences. It's not long before she has to hide her growing love for Arin.

But he, too, has a secret, and Kestrel quickly learns that the price she paid for a fellow human is much higher than she ever could have imagined.

Set in a richly imagined new world, The Winner's Curse by Marie Rutkoski is a story of deadly games where everything is at stake, and the gamble is whether you will keep your head or lose your heart.
This was one of those highly praised releases that ended up being just so-so. It's unfortunate, because after watching all of the hype and looking at the gorgeous cover and the unique ARC packaging, I just felt left down. A lot of the book was petty interactions between the main character and everyone else. For what the plot encompasses, the story itself could have been condensed to half. Less catty, more action.
Kestrel, the main character, purchases a slave at an auction despite not actually caring about owning a slave. The slave in question, Arin, is actually a plant for the revolution, a not super subtle or clever sort of spy. Still, the plot follows the course set, and the following coup is pretty much the end of the book. In order to see what happens after, I'll have to wait for the next installment.
Kestral is a lively girl with her own set of principals, that seem to waffle about for the sake of the plot. Her dad is overbearing. Her friends are kind and sweet but rather vapid and I couldn't care less about their demises. Arin was the archetype of indignity and the other characters interacting with him were also more ideas, concepts and catalysts than characters.
Overall, I didn't hate the book, but I didn't find it the sweeping, all immersing tale that the hype would have led me to believe it was.