I received this book for free from Netgalley in exchange for an honest review. This does not affect my opinion of the book or the content of my review.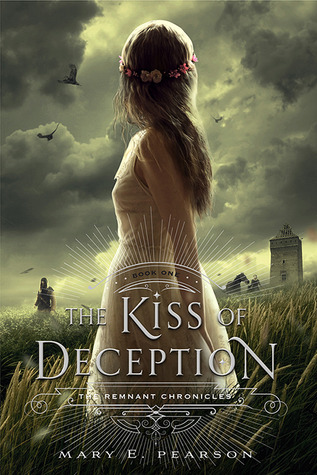 Kiss of Deception by Mary E. Pearson
Series: The Remnant Chronicles #1
Published by Henry Holt and Co. on July 8, 2014
Genres: Fantasy, Young Adult
Pages: 492
Source: Netgalley
Goodreads


Amazon •
In this timeless new trilogy about love and sacrifice, a princess must find her place in a reborn world.

In a society steeped in tradition, Princess Lia's life follows a preordained course. As First Daughter, she is expected to have the revered gift of sight—but she doesn't—and she knows her parents are perpetrating a sham when they arrange her marriage to secure an alliance with a neighboring kingdom—to a prince she has never met.

On the morning of her wedding, Lia flees to a distant village. She settles into a new life, hopeful when two mysterious and handsome strangers arrive—and unaware that one is the jilted prince and the other an assassin sent to kill her. Deception abounds, and Lia finds herself on the brink of unlocking perilous secrets—even as she finds herself falling in love.
To quote Sir Walter Scott, "Oh what a tangled web we weave, when first we practice to deceive." I think that pretty much sums up Kiss of Deception. There are lies and mysteries that even, I, as the reader couldn't figure out until they were unveiled. I liked Kiss of Deception a lot because it is a book about deception but also a book about courage. I loved the idea of a princess willing to risk everything for a chance at happiness and then willing to risk it again to fight for what she thinks is right.
Kiss of Deception starts out with a princess, Lia, on the day of her arranged marriage. Some may think she is just spoiled girl who would do anything not to be forced into marriage. She runs away to live in a small fishing village. Lia is not a spoiled girl but a girl with a dream. Her dream is to find someone will fight for her and love her for who she is. She becomes a simple bar maid with simple dreams. This is what I liked about Lia from the beginning because she is not only willing to fight for her dreams but work hard to attain them. She does not expect special privileges just because she is a princess.
There are also two men who are looking for her. One is the jilted prince and one is an assassin sent from another kingdom to slit Lia's throat. The story also has snippets from their point of view as well. In the town Lia also meets two handsome gentlemen one a farmer named Rafe and one a trader named Kaden. I loved that I knew one of these men was the prince and one was the assassin but it was a mystery to even me as to which one Lia was falling for. Just when I thought I knew who it was it was; it was just as shocking to me when the mystery was revealed. In the second half of the book one these men kidnaps Lia and takes her on an arduous journey to meet his king while the other combs the lands in search of her. I liked that Lia is no simpering maid though; she knows how to use a dagger and isn't afraid to use it. What I really liked most is by the end of the book Lia is like a phoenix and out of the, ashes, devastation of her journey she is now ready to rise up and take on a kingdom of barbarians to survive.
In the end, I really liked Kiss of Deception because I really like a good book that can keep even me guessing. I really like a good book where the princess doesn't just sit her castle waiting for the prince to come but makes him chase her because she has dreams to pursue. I really liked the imagery of the land and at times felt like I could lose myself in this world. I recommend Kiss of Deception to anyone who likes epic fantasy. I give it four stars because it most definitely left me on a nice cloud of happy.