I received this book for free from Netgalley in exchange for an honest review. This does not affect my opinion of the book or the content of my review.
This review contains spoilers. Read at your own risk.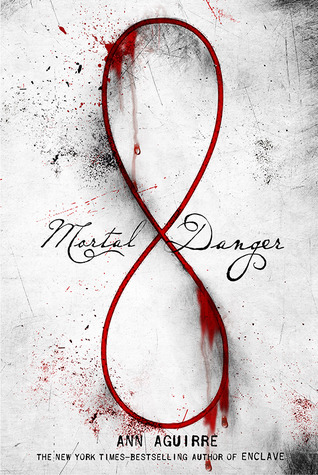 Mortal Danger by Ann Aguirre
Series: Immortal Game #1
Published by Feiwel & Friends on August 5th, 2014
Genres: Fantasy, Horror, Young Adult
Pages: 384
Source: Netgalley
Goodreads


Amazon •
Revenge is a dish best served cold.

Edie Kramer has a score to settle with the beautiful people at Blackbriar Academy. Their cruelty drove her to the brink of despair, and four months ago, she couldn't imagine being strong enough to face her senior year. But thanks to a Faustian compact with the enigmatic Kian, she has the power to make the bullies pay. She's not supposed to think about Kian once the deal is done, but devastating pain burns behind his unearthly beauty, and he's impossible to forget.

In one short summer, her entire life changes, and she sweeps through Blackbriar, prepped to take the beautiful people down from the inside. A whisper here, a look there, and suddenly... bad things are happening. It's a heady rush, seeing her tormentors get what they deserve, but things that seem too good to be true usually are, and soon, the pranks and payback turns from delicious to deadly. Edie is alone in a world teeming with secrets and fiends lurking in the shadows. In this murky morass of devil's bargains, she isn't sure who—or what--she can trust. Not even her own mind...
I know that I've said this before, but Ann Aguirre is one of my favorite authors. She can write a kick ass heroine and she's got some awesome ideas. I can see that this book had some budding potential and the entire series could still surprise me, but unfortunately, this book fell flat.
The writing felt like we were traversing the author's stream of consciousness. Plot points would be hit, but once that was over the prose would meander. Edie Kramer, our protagonist, is consistently conflicted about her actions. Despite getting revenge she's not a horrible person on the inside. Yet, there are other things within her mental dialogue that seemed excessive and pointless. She didn't have to make a obvious reference to something and then wax on for a paragraph or more about why she liked that thing or spend that time fluffing her nerd street cred. Whatever. Plus, if she was going to do that, she could try to not use a meme that went out of style in 2008. Using the cake is a lie is just as bad as using wazzzzzzzzzaaaaaaaaap at this point.
As for the rest of Edie's personality? I liked her, and all her flaws. She loves to speculate. This fits in with her deductive science brain, but sometimes she's horrifically blind to things in front of her face. Still, she's a teenager. One who's been given the short end of the social interaction stick, so I can see where she'd come off as a little ignorant and naive in the ways of both romance and friendships. I think most people will be able to relate to Edie on some level, even if their school experience wasn't the same hellish mire.
While I'm tired of the instant-love romance portrayed in most young adult novels, I have to admit that it is rather true to the nature of the beast. Not every relationship that starts with overwhelming teenage hormones and feels ends up sputtering out. Yet, people in novels tend to make some pretty brash decisions when it comes to their partner. Still, if Edie is super into the creepy guy who has been following her around and charting her progress, so be it. He's got a similarly tragic back story and seems to be looking out for her best interests in a Jorah Mormont sort of way.
Speaking of romance! This book has a dry humping scene. Kudos for doing something different in regards to sex scenes in young adult books. I'm so used to either brief descriptions, a sixty's style pan away, or one of the parties chickening out. Thank goodness for an actual orgasm, even if it was somewhat flowery, especially for a description of genital friction.
The meat and bones of the plot revolves around Edie's need for revenge and the competitive nature of the supernatural forces trying to control the future. There are plenty of monsters ranging from straight up mythological ones to slenderman. It's a catch all, in the vein of Cabin in the Woods. There doesn't need to be rhyme or reason to the monsters because all monsters are on deck. Yet, in their need to compete with time travel for time travel, they seem like they're going to mess up their chances at having that as a tool to use in the future. And what happens then? Will branches of the reality stream disappear? Will everything cease to have happened? Honestly, this is probably the only reason I will keep on reading this series. I want to know how the author deals with the issue of time travel. Yet, with the current prose vomit, I'm unsure if I will get a satisfactory explanation.
Not her strongest series opener. Shows plenty of promise. I could get behind it if it ramps up a bit. Spontaneous hemorrhaging people explosions are always a plus.