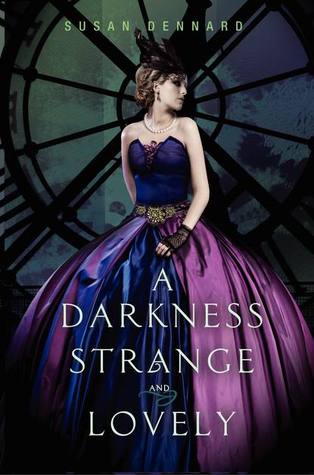 A Darkness Strange and Lovely by Susan Dennard
Series: Something Strange and Deadly #2
Published by HarperTeen on July 23, 2013
Genres: Fantasy, Paranormal, Romance, Young Adult
Pages: 406
Source: Amazon, Purchase
Goodreads


Amazon •
With her brother dead and her mother insane, Eleanor Fitt is alone. Even the Spirit-Hunters—Joseph, Jie, and the handsome Daniel—have fled to Paris. So when Eleanor hears the vicious barking of hounds and sees haunting yellow eyes, she fears that the Dead, and the necromancer Marcus, are after her.



To escape, Eleanor boards a steamer bound for France. There she meets Oliver, a young man who claims to have known her brother. But Oliver harbors a dangerous secret involving necromancy and black magic that entices Eleanor beyond words. If she can resist him, she'll be fine. But when she arrives in Paris, she finds that the Dead have taken over, and there's a whole new evil lurking. And she is forced to make a deadly decision that will go against everything the Spirit-Hunters stand for.

In Paris, there's a price for this darkness strange and lovely, and it may have Eleanor paying with her life.
First off let me say that I enjoyed this book so much better than the first book, Something Strange and Deadly. A Darkness Strange and Lovely takes place three months after the events in Something Strange and Deadly. I think it I liked A Darkness Strange and Lovely because it was full of: hot kisses, zombies and old fashioned Paris balls. Of course, a heroine that scoffs at traditions and hunts zombies in pants, no corset, and kicks butt with magic.
A Darkness Strange and Lovely takes place in late 1800s Paris this time. Eleanor goes there to meet up with the Spirit Hunters because the necromancer that possessed her brother's body is after her. Along the way she meets her brother's demon, Oliver. She must bind to Oliver in order to defeat a deadly spell and stay alive long enough to reach Paris. I liked Oliver because he may be a demon, but in this world demons are just like people and it is the events of their lives that shape them into good or evil. Oliver is not evil but he is like any other creature and his self-interests tend to come first. I liked that he pushes Eleanor to use her magic. I liked that he cared a great deal for Eleanor's brother and though this book just brushes the topic I hope that we get more details about their adventures and relationship in the next book. I liked that there can be love and friendship between Oliver and it doesn't have to romantic. Of course, this book is filled with swoon worthy kisses because Daniel and Eleanor are at it again. All the while they are fighting off demons and zombies. This book never lacks for action as Eleanor finds herself in one adventure after another whether it is fighting the undead in the catacombs or navigating a ballroom.
In the end I really enjoyed A Darkness Strange and Lovely and I am immediately reading the next book in the series because this book ends on cliff hanger. I am glad I want to have to wait long to find out what happens to Eleanor and the gang as they make their way to the showdown with Marcus. I am now quickly becoming a fan of this trilogy. It just keeps getting better and better. I give A Darkness Strange and Lovely four stars because it left me on a nice cloud of happy.