I received this book for free from Edelweiss in exchange for an honest review. This does not affect my opinion of the book or the content of my review.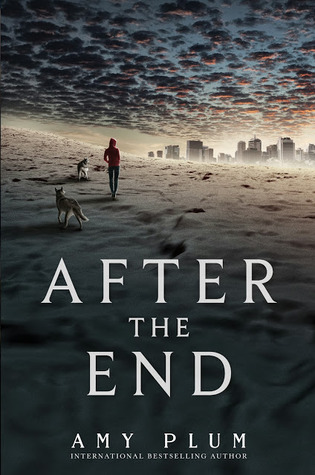 After The End by Amy Plum
Series: After The End #1
Published by HarperCollins on May 6th, 2014
Genres: Romance, Science Fiction, Young Adult
Pages: Hapercollins
Source: Edelweiss
Goodreads


Amazon •
She's searching for answers to her past. They're hunting her to save their future.
World War III has left the world ravaged by nuclear radiation. A lucky few escaped to the Alaskan wilderness. They've survived for the last thirty years by living off the land, being one with nature, and hiding from whoever else might still be out there.

At least, this is what Juneau has been told her entire life.

When Juneau returns from a hunting trip to discover that everyone in her clan has vanished, she sets off to find them. Leaving the boundaries of their land for the very first time, she learns something horrifying: There never was a war. Cities were never destroyed. The world is intact. Everything was a lie.

Now Juneau is adrift in a modern-day world she never knew existed. But while she's trying to find a way to rescue her friends and family, someone else is looking for her. Someone who knows the extraordinary truth about the secrets of her past.
Juneau is a girl who lives in the Alaskan wilderness. She's pretty bad ass at most things involving survival without standard amenities. She's also one with the universe and I expected her to break into a rendition of Colors of the Wind at any moment.
Despite the blue corn moon, she returns from a hunting trip to find her entire family gone and all the dogs massacred. This prompts her to go on a quest to find her parents, though, she certainly finds more than she bargained for, caught between two different sects and unable to figure out who to trust.
The dual point of view for this book took awhile to get into and lost me several times along the way. It was nice to see that the voices of the two characters were completely different, as it seems to be coming an increasing trend that even with dual POV, the characters all sound the same. I lost interest somewhere within the last stretch and had to set the book down before finishing it. Despite being at the climax, I just didn't care anymore. The characters didn't grow on me and the plot meandered in the same direction for quite some time.
Unfortunately, this book ended in a cliffhanger and I kind of really want to know what happens to Miles. And while I did love the concept and the magic in the book, the plot itself failed to grab me after the initial one-two punch.