I received this book for free from Edelweiss in exchange for an honest review. This does not affect my opinion of the book or the content of my review.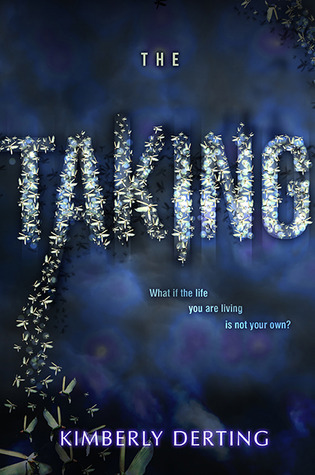 The Taking by Kimberly Derting
Series: The Taking #1
Published by HarperTeen on April 29th, 2014
Genres: Science Fiction, Young Adult
Pages: 368
Source: Edelweiss
Goodreads


Amazon •
A flash of white light . . . and then . . . nothing.

When sixteen-year-old Kyra Agnew wakes up behind a Dumpster at the Gas 'n' Sip, she has no memory of how she got there. With a terrible headache and a major case of déjà vu, she heads home only to discover that five years have passed . . . yet she hasn't aged a day.

Everything else about Kyra's old life is different. Her parents are divorced, her boyfriend, Austin, is in college and dating her best friend, and her dad has changed from an uptight neat-freak to a drunken conspiracy theorist who blames her five-year disappearance on little green men.

Confused and lost, Kyra isn't sure how to move forward unless she uncovers the truth. With Austin gone, she turns to Tyler, Austin's annoying kid brother, who is now seventeen and who she has a sudden undeniable attraction to. As Tyler and Kyra retrace her steps from the fateful night of her disappearance, they discover strange phenomena that no one can explain, and they begin to wonder if Kyra's father is not as crazy as he seems. There are others like her who have been taken . . . and returned. Kyra races to find an explanation and reclaim the life she once had, but what if the life she wants back is not her own?
This is my first foray into Kimberly Derting's works. Overall, I enjoyed her writing style and pacing. While I feel I'd enjoy reading more of her books, do I want to read the Body Finder series or The Pledge? No idea. If ya'll have any suggestions, feel free to be book pushers.
The Taking focuses on Kyra Agnew, who, after having a fight with her dad over normal teenager stuff like boyfriends and college, finds herself behind the local gas station. All she remembers is a flash of light. Unfortunately for Kyra, who thinks only the evening has passed, it has actually been five long years since she has been seen. Honestly, the girl must have a solid constitution, as finding out that shes lost five years and everything she holds dear is completely different only phases her slightly. Sure, she's phased by it, but shes not Katniss-Everdeen-void-of-unhappiness-PTSD phased by it. In fact, not once does anyone suggest that maybe she should go to a psychiatrist. They take her to the hospital for a health evaluation, but no one seems to care about her mind.
Kyra's new insta-love interest is the little brother of her old boyfriend, Austin. Said boyfriend having inevitably moved on in the five years she was missing. Kyra sure gets over him easily, hardly dwelling when she finds out that her best friend is now his girlfriend.
The little brother, Tyler, had apparently had a crush on Kyra since forever. And despite the creepy beginings of their budding relationship, is perfectly fine following her around like a little puppy dog as a bunch of men in black try to chase her down for who knows what. This, obviously, causes a huge conflict, as Kyra carries blood to air borne horribleness and surprise infects him.
The only way to save him is to rush into a cliffhanger. Still, despite the laissez-faire attitude of most of the characters, this book was a fun experience, fast paced with few dead spots. I'm curious about the overarching plot with the aliens, and the men in black that pursue those that have been taken.