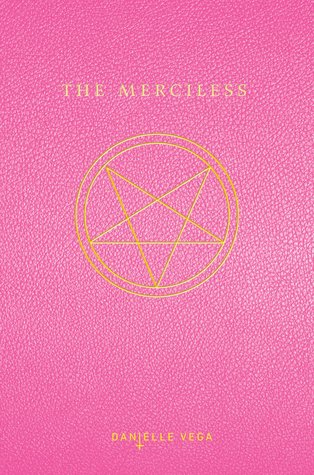 The Merciless by Danielle Vega
Series: The Merciless #1
Published by Razorbill on June 12, 2014
Genres: Horror, Paranormal, Young Adult
Pages: 279
Source: Amazon, Audible, Purchase
Goodreads


Amazon •
Brooklyn Stevens sits in a pool of her own blood, tied up and gagged. No one outside of these dank basement walls knows she's here. No one can hear her scream.

Sofia Flores knows she shouldn't have gotten involved. When she befriended Riley, Grace, and Alexis on her first day at school, she admired them, with their perfect hair and their good-girl ways. They said they wanted to save Brooklyn. They wanted to help her. Sofia didn't realize they believed Brooklyn was possessed.

Now, Riley and the girls are performing an exorcism on Brooklyn—but their idea of an exorcism is closer to torture than salvation. All Sofia wants is to get out of this house. But there is no way out. Sofia can't go against the other girls . . . unless she wants to be next. . . .

In this chilling debut, Danielle Vega delivers blood-curdling suspense and terror on every page. By the shockingly twisted end, readers will be faced with the most haunting question of all: Is there evil in all of us?
Have you ever finished reading and/or listening to a book and thought what the heck did I just read? After finishing The Merciless, the one thought that kept running through my head was, WTF.  The most disturbing thought of all was I kind of liked it, and I want to read the read and/or listen to the next book.
The Merciless is a YA horror novel. In the description on audible it even says for, "Mature Audiences Only." I knew parts of this book might get vicious and downright disturbing. I guess I just didn't know how much or how far it would go. I kept seeing blurbs that compared it to Mean Girls but there is nothing light or airy about this book. It is a serious exploration into hypocrisy and evil. The book is about Sofia who moves to a new school and befriends the popular clique. The girls are super religious, or at least pretend to be. One day at a party Sofia sees Brooklyn, the class bad girl, kissing Riley's boyfriend. Riley decides to kidnap Brooklyn and exorcise the demon that has obviously "possessed" her. Only things get way out of control and start to take a turn for the crazy. Think the end of Scream when the killers are revealed. It just gets even more disturbing from there.
I am huge fan of the horror genre so this book was right up my alley. It was so disturbing that I could not make myself turn it off. The ending was twisted. I ended up liking this book. Did I like it enough to buy copies for everyone I know? No. I liked it in the way I like cheesy movies like Paranormal Activity or Oculus. All of it is like a bad train wreck and I find myself fascinated by the horror and shock of it all. Know that if you read this book it will not be a light or airy fun book but a crazy horrific exploration into faith and truths. I give The Merciless audiobook three stars. I like the narrator Amy Rubinate, I have listened to other books narrated by her, and she has a nice voice. Most of all I liked the fact that The Merciless was a quick read. I started the audiobook getting ready for work and had it finished a couple hours after I got home.