I received this book for free from Edelweiss in exchange for an honest review. This does not affect my opinion of the book or the content of my review.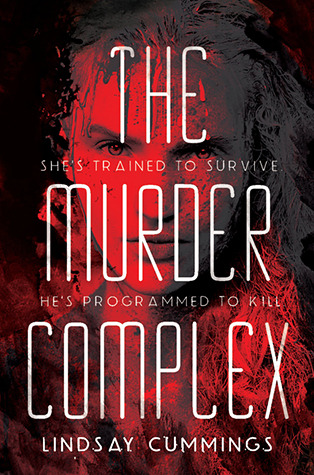 The Murder Complex by Lindsay Cummings
Series: The Murder Complex #1
Published by Greenwillow on June 10th, 2014
Genres: Science Fiction, Young Adult
Pages: 398
Source: Edelweiss
Goodreads


Amazon •
An action-packed, blood-soaked, futuristic debut thriller set in a world where the murder rate is higher than the birthrate. For fans of Moira Young's Dust Lands series, La Femme Nikita, and the movie Hanna.

Meadow Woodson, a fifteen-year-old girl who has been trained by her father to fight, to kill, and to survive in any situation, lives with her family on a houseboat in Florida. The state is controlled by The Murder Complex, an organization that tracks the population with precision.

The plot starts to thicken when Meadow meets Zephyr James, who is—although he doesn't know it—one of the MC's programmed assassins. Is their meeting a coincidence? Destiny? Or part of a terrifying strategy? And will Zephyr keep Meadow from discovering the haunting truth about her family?

Action-packed, blood-soaked, and chilling, this is a dark and compelling debut novel by Lindsay Cummings.
Have you ever watched The Island? It's an exciting summer blockbuster that doesn't make you think to hard. The foreshadowing looms shortly, only to break into obvious reveals. Obvious plot threads weave throughout the storytelling, yet it is still a lot of fun to watch.
This book was a lot like that. Nothing about it was groundbreaking or unique, but the entire reading experience was a good time. Sure, the dystopian future thing has been done to death in every incarnation by now. Sometimes the plots are plodding and uninteresting. Sometimes the world building doesn't make sense. Sometimes the characters are abhorrent. The Murder Complex suffers from none of these ailments.
I loved the world building, the characters (both primary and secondary), and the quick paced plot. Usually, when encountering a book with forced dual POV every chapter, I start to hate it. Usually this happens because the author doesn't change the writing style for both characters. Everyone has the same internal monologue and sometimes you lose track of who is actually the focus for the chapter. This was not the case. There were only a few awkward jumps, but the character's internal voices were subtly different enough for me to tell who was narrating without thinking too hard about or going back and referring to the chapter header.
I guess my only gripe, albeit a small one, is the usage of fake swear words. I get the reasoning behind it, I really do. But, sometimes it just detracts from the storytelling. Especially when encountering it in the text as both dialogue and monologue.