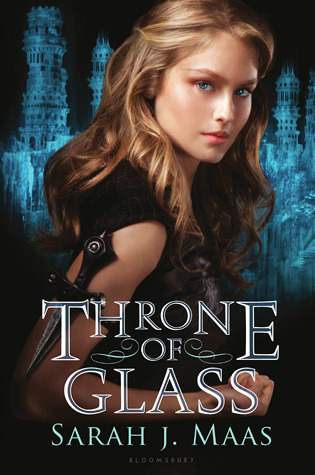 Throne of Glass by Sarah J. Maas
Series: Throne of Glass #1
Published by Bloomsbury Publishing USA on August 7, 2012
Genres: Fantasy, Young Adult
Pages: 404
Source: Amazon, Audible, Purchase
Goodreads

After serving out a year of hard labor in the salt mines of Endovier for her crimes, 18-year-old assassin Celaena Sardothien is dragged before the Crown Prince. Prince Dorian offers her her freedom on one condition: she must act as his champion in a competition to find a new royal assassin. Her opponents are men-thieves and assassins and warriors from across the empire, each sponsored by a member of the king's council. If she beats her opponents in a series of eliminations, she'll serve the kingdom for three years and then be granted her freedom.

Celaena finds her training sessions with the captain of the guard, Westfall, challenging and exhilirating. But she's bored stiff by court life. Things get a little more interesting when the prince starts to show interest in her... but it's the gruff Captain Westfall who seems to understand her best.

Then one of the other contestants turns up dead... quickly followed by another.

Can Celaena figure out who the killer is before she becomes a victim? As the young assassin investigates, her search leads her to discover a greater destiny than she could possibly have imagined.
This was the second time I tried to listen to this audiobook. The first time I will admit I got a little bored and gave up but the second time I was determined to listen to Throne of Glass all the way to end. You know what, I did it. I just finished listening to Throne of Glass and I can honestly say I don't hate it. Do I want to shout it's praises from the rooftops? No. Do I want to buy copies and force all friends to read it? No. While, I wouldn't go out of my way to recommend this book. I also wouldn't discourage anyone from reading this book either. For me, Throne of Glass is just an ok book but nothing special and I give it a  shrug and three stars.
Throne of Glass is a high fantasy novel about a girl who is the most feared assassin in all of Adarlan. She was captured and sentenced to a life sentence in the slave camps. The book opens with her being taken out of the salt mine by the prince of Adarlan. He offers her a chance at freedom and all she has to do is compete in a competition to become the King's Champion. From the basic plot lines this book sounds like it should be amazing, right? That is what I thought too. The start of the story moves slow and is full of sentences like, "She could kill him right now, wipe that smile right off his face." The beginning is all talk about what a masterful assassin she is but is followed up with no action.   The first 60% of this book is about Celaena playing the court games, keeping her head down and trying to not let anyone know who she really is. Then something starts threatening contenders and Celaena knows she could be next. The story starts to pick up as Celaena starts to drop the games because things are getting serious. The time for playing stops and Celaena starts fighting. It is the last 40% of the book that had me upping my original rating and getting the next book in the series. I liked the narrator Elizabeth Evans. She has nice voice that is not grating and is a pleasure to listen to. I liked the way she did the voices. I honestly don't know if I would have finished the book if I had just been reading it.
Overall, Throne of Glass is not a horrible book. I just think for me the beginning was too much setup of the story. There was also too much court intrigue and talk of Celaena's prowess but not enough action. Of course, there was typical love triangle though I did like at the end of the book she had decided to just be on her own. Since the story is far from over who knows where it might it lead. In the , end I like Throne of Glass well enough to pick the next book Crown of Midnight immediately because I think this series has potential and all the five star reviews can't be wrong, right?