I received this book for free from Audible, Edelweiss in exchange for an honest review. This does not affect my opinion of the book or the content of my review.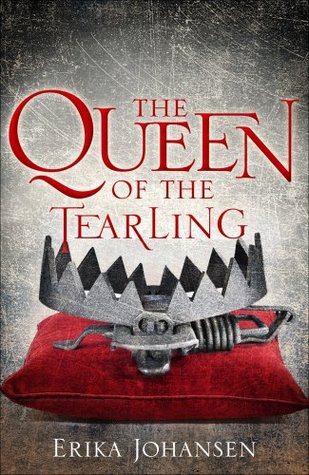 Queen of the Tearling by Erika Johansen
Series: The Queen of the Tearling #1
Published by HarperCollins on July 17, 2014
Genres: Adventure, Fantasy
Pages: 448
Source: Audible, Edelweiss
Goodreads


Amazon •
Kelsea Glynn is the sole heir to the throne of Tearling but has been raised in secret by foster parents after her mother - Queen Elyssa, as vain as she was stupid - was murdered for ruining her kingdom. For 18 years, the Tearling has been ruled by Kelsea's uncle in the role of Regent however he is but the debauched puppet of the Red Queen, the sorceress-tyrant of neighbouring realm of Mortmesme. On Kelsea's 19th birthday, the tattered remnants of her mother's guard - each pledged to defend the queen to the death - arrive to bring this most un-regal young woman out of hiding...

And so begins her journey back to her kingdom's heart, to claim the throne, earn the loyalty of her people, overturn her mother's legacy and redeem the Tearling from the forces of corruption and dark magic that are threatening to destroy it. But Kelsea's story is not just about her learning the true nature of her inheritance - it's about a heroine who must learn to acknowledge and live with the realities of coming of age in all its insecurities and attractions, alongside the ethical dilemmas of ruling justly and fairly while simply trying to stay alive...
I got this book as an e-ARC and started reading it, but quickly discovered it was kind of boring. Then I found out that Emma Watson was producing this book into a movie and was going to star in it, so I thought there must be something I am missing. I waited until the audiobook came out and decided to give Queen of the Tearling another try. I have to say it was a lot easier to get through as an audiobook because Katherine Kellgren is an amazing narrator. She really made the book come alive. Unfortunately, not enough to make me think this book was the next best thing since sliced cheese. I give Queen of the Tearling three stars and a shrug because I didn't hate it.
The story starts off with Kelsea being taken away on her nineteenth birthday because she is now old enough to take her rightful place on the throne of Tearling. Let me tell you this is not a high fantasy but a dystopian novel because it takes place many years in the future. That didn't bother me. The setting didn't bother me. I could get into a setting that was dystopian but set up like a set out of Game of Thrones. I guess I just expected something more epic and grander than what was delivered.
Kelsea gets to the keep only to discover that her uncle has been sending slaves to the Red Queen to appease a treaty set many years back. Of course, Kelsea is outraged to learn that her people have been entered into a slave lottery and then sold off like cattle. She sets them free and bans the lottery even if it means war with the Red Queen. Now in the eyes of her people she is the queen that has come to save them all. Sounds like something Emma Watson would want to make into a movie, right. I guess. I think this book would be one of those that I would not be that upset if they changed things or left parts out. Queen of the Tearling had too much going on. At times it was confusing. There was Kelsea trying to learn the ropes and get her bearings. The Red Queen obsessed with power and youth that she makes very dark sacrifices, the prince regent running around like a chicken with his head cut off, a man on the guard willing to risk his soul to get his wife back, and an evil slave trader. All of these people had their own third person point of views story told. It was interesting and by the end I could see it all it coming together but there were times when I think zoned out while listen.
What saved this book for from becoming a two star? In a word: curiosity. I am intrigued by Kelsea and how she is going to save her kingdom. I am curious about the Red Queen because she was most interesting character and I want to get her back story. I would love to know what choices and evil deeds she did that led her to the path she is on. I will probably pick up the next audiobook because for me this book was much better read by Katherine Kellgren because she does a different voice for each character and makes it so easy to follow along at times get immersed in the story.