Time for another Top Ten Tuesday, courtesy of the Broke and the Bookish!
This week's topic is: Ten Books I Would Give to Readers Who've Never Read my Genre
 Bry: My genre will be Historical Fiction. I'm a historian, and my passion for history is extensive, leeching into my book choices, my movie and show choices, how I live my life, where I want to travel, and even how my wedding is going to go down. If I were trying to convince someone that historical fiction was a thrilling genre for them to enjoy, here are some of my strongest contenders. I've included my reviews where applicable!
1. The Red Lily Crown by Elizabeth Loupas
I've said it before and will say it again, but my specialty is Renaissance Florence, especially the Medici Family. Specifically, Cosimo I, who actually shows up in this book! Its very very rare to find a book directly related to the people I study most, and Elizabeth Loupas finally has in a way that I just adore.
2. A Thing Done by Tinney Sue Heath
Another Florence favourite, though set long before the Renaissance. This book follows the very real Guelph and Ghibelline conflict that erupted in Florence in 1215, through the eyes of a Fool who finds himself in the middle of it all. Amazing read, great tension!
3. Pillars of the Earth by Ken Follet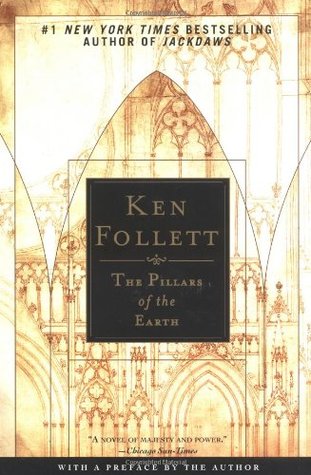 Pillars of the Earth is a fantastic journey into Twelfth Century England, ina small village called Kingsbridge. Kingsbridge is unfortunately situated to be directly in the middle of the — conflict for the throne between King Stephen and Matilda. The book centers around the village's grand attempt at building a cathedral to last through the ages, and focuses on the many special people who make this happen.
4. World Without End by Ken Follet
Once you've read Pillars of the Earth, it would be impossible to ignore World Without End, which takes place a generation after PotE, when names like 'Jack Builder' and 'Prior Phillip' have become legends and symbols. This book focuses more on the tribulations of the plague outbreaks, and what devastation a single disease wrought upon our history.
5. Vlad: The Last Confession by C.C. Humphreys
A little bit supernatural, a little bit real history, and this book about the real life of Dracula before he became the infamous impaler and inspired the legends of vampirism, is a total win. The intricate details and struggles of Vlad Tsepes's life comes alive in these pages, and though I read this several years ago, it obviously still resonates with me.
6. The Boy in the Striped Pajamas by John Boyne
I believe this book should be mandatory curriculum in schools. To understand the absolute horror of the Holocaust is already nearly impossible, but to witness this absolute brutality through the eyes of children makes it blood-chilling, and deeply impactful. Inspired by the real life closeness of Concentration Camp victims and the families of the overseers, separated only by a fence, the Boy in the Striped Pajamas will break your heart, and instill within you the value of understanding.
7. The Three Musketeers by Alexandre Dumas
Yes, this has a place on this list! The Musketeers exist very much in rich, real world history, and rather than taking away from it or trying to spin it, the historical background enriches the stories and makes them something I will always crave and enjoy!
I needed one 'historical detective' book on this list, as it is completely my guilty pleasure genre. As this one takes place in Florence, of course it makes the list. I also unbiasedly believe its the best of the series so far!
9. The Diaries of the Family Dracul series by Jeanne Kaolgridis

Returning to vampires, I can't help it. I adore my historical fiction filled with the immortals who have lived through it to really appreciate the context of history! This series includes Covenant with the Vampire, Children of the Vampire, and Lord of Vampires, all of which are stellar and are easily one of my favourite series.
10. The Other Queen by Philippa Gregory.
Wait! Let me explain myself. Why is this on the list? Because in order to understand what good historical fiction looks like, you have to read one really, really bad, really biased, piece of shit. Yes I am serious. Enough said.
 Fry: Dang! I don't normally wallow in a single genre, unless you count the blanket SciFi/Fantasy genre. So, this is going to be a blend of Urban Fantasy/High Fantasy and Science Fiction. 
1.  Downside Ghosts by Stacia Kane- This is a gritty urban fantasy with a bit of messed up romance. This series is intensely hard to recommend to anyone as the main character is a drug addict who pretty much doesn't care that she's a drug addict. Remorseless drug use is apparently a deal breaker for a good chunk of people.  Still, I love the characters and their screwed up sensibilities. Not to mention the world building is top notch and different from most other urban fantasy. Ghosts! Murderous, bloodthirsty ghosts!
2. Sirantha Jax by Ann Aguirre- I don't usually read hard science fiction with space ships and whirlygigs and political nonsense. But, surprisingly enough, Ann Aguirre wrote it in such a way that it felt more like a paranormal romance, with spaceships and people eating aliens involved. It's what I would call a gateway drug to more bogged down and slow moving science fiction. The last book in the series takes on such a large scope that it hardly seems part of the series anymore, but it wraps up the character's story lines nicely, even if there is plastic surgery involved. Ann Aguirre's new series set in the same universe is just as interesting and fun. Seriously, one of my favorites.
3.  Alex Craft by Kalayna Price- Okay, fairies are pretty hit or miss on the urban fantasy realm for me. You've got your Darkfevers and you've got your October Dayes and they've both got merit, but then most stuff pretty much falls on the Darkfever spectrum where it will eat you, but it will bone you first. Not that I don't like that every so often, but when that is the length and breadth of the fairy urban fantasy, I start to get bored. Kalayna Price writes closer to Seanan McGuire's October Daye, but with a bit more rainbows and sunshine. You need rainbows and sunshine sometimes, with all those fairies trying to murder you.
4. Newsflesh by Mira Grant– Zombies. Zombies are hard to recommend. But! Goodness, you guys, this series was just so good. The world isn't a horrible zombie wasteland and life goes on relatively normally (but with zombie safeguards).  Bloggers are the new news source. The series follows a group of bloggers as they take to the campaign trail, uncover a global conspiracy and attempt to stop it. It's got a few slow parts, but you can't expect a book about zombies to function like Brad Pitt's high budget run from zombies every five minutes movie.
5. The Girl With All The Gifts by M.R. Carey- Zombies again, but this book was such a ride with such a perfect ending that I think that most people can appreciate it and the inevitable feelings it will induce.
6. The Lotus War by Jay Kristoff- Anyone who even remotely enjoys anime will appreciate this story. Sure, the world building feels a little simple (like looked up 'Japan' in wikipedia and started building a rickety world from the keywords provided simple), but the overarching plot makes up for it.
7. The Gentlemen Bastards by Scott Lynch- Why haven't you read this? You probably should. Heists in a fantasy world that is very similar to Venice, but with sharks! The first book was so much fun and the rest of what has been written so far is quite solid.
8. Vampire Academy by Richelle Mead- I always have to preface, yes, the name is super lame. But, for action, adventure and sassy high school drama, there's really no better. Don't let the movie deter you. This book series was one of the quickest reads I've ever accomplished, pushing from one book to the next immediately. It's worth it even when it gets quite dark.
9. Warm Bodies by Isaac Marion- Wow, I read a lot of zombie books. This book is refreshing in that it is from the zombie's point of view. R is really sarcastic, and the book itself is really fun. Don't think it's like the movie though. The ending is far different. Granted, the movie was still good in it's own way.
10.  Fool's Gold by Jude Fisher- One of the first really epic fantasy series I read. It doesn't seem to have a huge following, but it was a really interesting series. The characters (the ones that didn't go insane) were fantastic. The buildup and ending were definitely satisfactory. I'd recommend it more if I could remember the author's name.
 Carol: My genre will be High Fantasy! Bet you thought I'd pick Manga, didn't you? Well, the truth is, while I adore Manga, I'm still a hard-core Fantasy reader, and there are many fantasy titles I'd easily hand to people who are interested in getting in to the genre. With that said, here are some titles I'd hand out to people who have never ventured in to the realm of castles, myth, and legend. But beware: here there be dragons!
1. The Hobbit by J. R. R. Tolkien- All together now: because it's my favorite book, and a great first- timer's quest in to the world of fantasy, I'd give everyone and anyone who hasn't read a fantasy book before this as my first recommendation. Written for 8- 13 year olds in the late 1930's, this story has everything a good fantasy tale needs. A quest, fights and daring escapes, magic, a golden treasure, a war, a DRAGON! So much happening that leads to a slew of more stories. But to get your feet wet, I offer the story of one Bilbo Baggins, a tiny hobbit who one day goes out his door after some treasure seeking dwarves.
2. Harry Potter and The Sorcerer's Stone by J. K. Rowling- I don't care if you've seen all of the movies, or read all the spoilers. If you haven't read the books, you don't know EVERYTHING. And if you don't know some of the major, key details left out of the films, then you are missing out! For readers who haven't touched fantasy before, I'd gladly give them this. No, it's NOT just for kids. It is for anyone who ever felt like they didn't belong and wanted to escape their lot in life. It is for anyone who dreams of something more and amazing. Yes, it'll get dark. It'll get scary. But that's what life is like, too- this way, you get a grand adventure and magical mayhem added in, and you don't need to leave your house… Or cupboard under the stairs, wherever you're at.
3. Rose Daughter by Robin McKinley- Great for someone who loves fairytales turned on their heads, along with some subtle and gentle romance (no bodice rippers here!). This retelling of Beauty and The Beast gives us a better world for us to center around, and a Beauty who isn't perfect, or good for good's sake. She's questioning and looking for her own place in the world, and if you like well-rounded protagonists, then start with this piece by Ms. McKinley.
4. The Hero and The Crown by Robin McKinley- Another by McKinley? Yes. This story is about Aerin, a princess (though by far not the one the kingdom wants) who is ignored and ridiculed due to rumors of her mother and talks of curses and ill omens. The land is falling apart, and worse yet, a dragon is about, causing destruction everywhere! Aerin's story is the first in the Damar universe chronologically, but serves as the back-story to the world of McKinley's first original story The Blue Sword. This story, however, is crucial to seeing how a great prequel still stands alone as its own tale, and serves as a better set-up for building a new world than the original did. If you want fantasy, but originality, in your first quest out, then take up this book.
5. Wicked by Gregory Maguire- The Life and Times of The Wicked Witchof the West ain't your granny's 'Wizard of Oz' story. This is the story of Elphaba, the green-skinned daughter of a religious, pious man from Munchkin territory, and how she goes from wanting to do what she feels is good and right to becoming the most wicked witch of them all. Maguire manages to re-twist and weave the land of Oz from a bright and colorful Utopia to something more akin to what a full, rich, living world should be, with all the good and bad mingled in between. WARNING: There is sexual content, and a lot of violence, but don't let that scare you. For the mature first-time fantasy reader, this is the right blend of grit and wonder.
6. Artemis Fowl by Eion Colfer- Colfer follows in the steps of Rowling by giving us this story of another boy who comes across the world of magic… But less innocently. Artemis Fowl is only 12, but he is also wealthy, a genius, has written several books under the guise of an adult, and he is a con-artist. With his butler (and personal bodyguard), he aims to make the biggest con of all- stealing from the Fae. How? By kidnapping a fairy. He just so happens to capture one of the fae's best LEPRecon officers, Captain Holly Short. This first in the Artemis Fowl series begins a story that is a beautiful blend of magic and technology, with creatures ranging from dwarves to sprites to satyres and dozens of others. And all must outwit and outsmart the young genius, Artemis Fowl. This story is great for people who like action films and cop-dramas, especially if they're tech savvy.
7.  Howl's Moving Castle by Diana Wynne Jones-  Sophie is the Eldest of three daughters. And she knows that in her world, which is full of magic, spells, curses, and other things, that this means she won't be winning the heart of any great prince or battling any wicked dragons or saving any kingdoms. But Sophie's fate is something else, which will turn every rule and story she knows of on its head. Especially when, by the hand of a witch, she ends up coming across the Heartless Wizard, Howl. Before Studio Ghibli adapted it for animation, this book gave us a look at a world that knew the rules of fantasies and fairytales, and questioned what would happen if things were shaken up. I'd definitely give this to first time fantasy readers, if only to ask them what their favorite of Calcifer's jokes are, once they've finished.
8. The Princess Bride by William Goldman- The book that inspired the classic, hilarious film, this is the story of Buttercup. A young, and rather selfish girl who fell in love with the farmboy who worked for her family, only to lose him to pirates and be snatched up by a prince. Full of wit, humor, jokes, and asides that can break up some of the plot (though not nearly as bad as the film), this book is good for those who love to laugh, and to prepare them for the giggles to come when they hear Andre the Giant say, 'I am the bruth squad', or 'Mawage. Mawage is what bwings us togetha today'.
9. The Hunger Games by Suzzanne Collins- Okay, okay I know it's not supposed to be fantasy, but Goodreads says it is, and COME ON! There are creatures that have never existed in our world being created to survive in a distant distopia, you've got a protagonist who uses a bow and arrow as her weapon of choice, and we have a government that calls it's leader the 'President', but with his power and influence, he may as well be called a King. This story is good for easily shifting someone's idea of what a fantasy could be before we drop them down in to the sorcery and dragons.
10. A Game of Thrones by George R. R. Martin- While it's my 10th pick, it is by no means the LEAST of the books I'd give to a first time fantasy reader. This story- and by extension the series- has it all! Wolves and dragons, beasts and men, kindoms and kings and lords and ladies. It has battles, it has magic, it has political intrigue abounding, and it has memorable characters all over the place who make you care whether they live or die (and the author knows that before he brings down the axe of fate upon anyone's head!). This first entry in to 'A Song of Fire and Ice' is a great way of introducing someone to fantasy. We have the House of Stark, led by Eddard (Ned) Stark, a hero of old wars, and friend to the king, Robert Baratheon. When King Robert goes up north to Winterfell, wanting to align their houses in marriage and bring Ned and his daughters south, Ned knows that there are some bad things going to happen, and while he would rather stay home with his wife and children, he cannot refuse his friend's request. I'd happily give this to someone interested in reading fantasy, but I would also hand them some chocolate, a box of tissues, and a thick blanket. Because Winter is Coming.