I received this book for free from in exchange for an honest review. This does not affect my opinion of the book or the content of my review.
This review contains spoilers. Read at your own risk.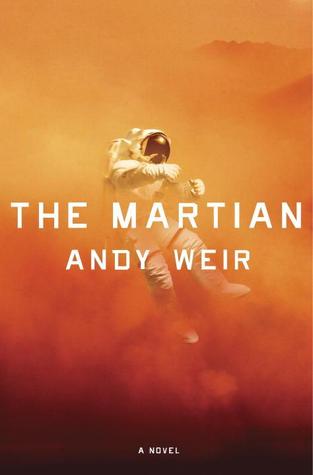 The Martian by Andy Weir
Published by Crown Publishing on February 11th, 2014
Genres: Science Fiction
Pages: 369
Goodreads

Apollo 13 meets Cast Away in this grippingly detailed, brilliantly ingenious man-vs-nature survival thriller, set on the surface of Mars.



Six days ago, astronaut Mark Watney became one of the first men to walk on the surface of Mars. Now, he's sure he'll be the first man to die there.





It started with the dust storm that holed his suit and nearly killed him, and that forced his crew to leave him behind, sure he was already dead. Now he's stranded millions of miles from the nearest human being, with no way to even signal Earth that he's alive--and even if he could get word out, his food would be gone years before a rescue mission could arrive. Chances are, though, he won't have time to starve to death. The damaged machinery, unforgiving environment, or plain-old "human error" are much more likely to get him first.





But Mark isn't ready to give up yet. Drawing on his ingenuity, his engineering skills--and a relentless, dogged refusal to quit--he steadfastly confronts one seemingly insurmountable obstacle after the next. But will his resourcefulness be enough to overcome the impossible odds against him?
Hated it.
It was a push to get through most of this book. I had to really dedicate myself and my willpower to the task. Unfortunate, because there were so many glowing reviews for this book. Guess I'm the odd duck.
If you enjoy long, tedious descriptions of jury rigged science, I suppose this book is for you. I couldn't handle it after awhile. Even when there reached a point where we weren't forever in Watney's head, it only held appeal for a little bit.
This book is dull, despite that Mark Watney has everything going wrong for him and finds himself the victim explosions and surprise sudden decompression.  At one point he flipped his convoy and it was at that moment that I decided that I just didn't care anymore.
I was at 84% ! That's how much of the book I had read before I decided I didn't care. I was too far gone! I couldn't just finish the book with 16 % remaining! It caused me such pain! I was figuratively smashing my head against the wall. I'd read a section, complain, read more. Don't believe me? Ask my co-blogger, Bry. It took me TWO days to read the last  60 or so pages. It was like torture.
(Editor's Note from Bry: Its true, I cheered her through the marathon of terrible, but assume no responsibility for brain damage incurred along the way.)
Then! Despite basically going into space in a TENT –A GODDAMN TENT. NASA WHAT IS WRONG WITH YOU!?– and being blown 64 km off course, he gets rescued. Then the book ENDS. It ends! It pulls a goddamn Milo and Otis on me and ENDS. Does he get home? I don't think a spaceship that just set off a bomb inside it in order to blow out ALL OF THE AIR is going to make a several month trip BACK TO EARTH. Agh!
So yeah, never really got into it. I got a little lukewarm towards it somewhere in the middle, but that quickly went away.