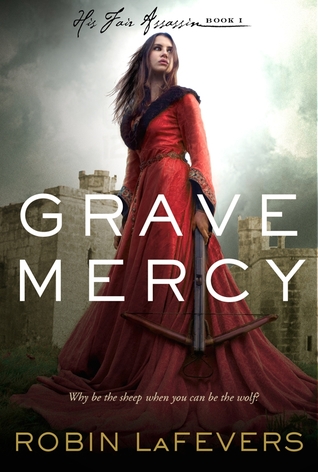 Grave Mercy by Robin LaFevers
Series: His Fair Assassin #1
Published by Houghton Mifflin on April 3, 2012
Genres: Fantasy, Paranormal, Young Adult
Pages: 549
Source: Purchase
Goodreads

Seventeen-year-old Ismae escapes from the brutality of an arranged marriage into the sanctuary of the convent of St. Mortain, where the sisters still serve the gods of old. Here she learns that the god of Death Himself has blessed her with dangerous gifts—and a violent destiny. If she chooses to stay at the convent, she will be trained as an assassin and serve as a handmaiden to Death. To claim her new life, she must destroy the lives of others.





Ismae's most important assignment takes her straight into the high court of Brittany—where she finds herself woefully under prepared—not only for the deadly games of intrigue and treason, but for the impossible choices she must make. For how can she deliver Death's vengeance upon a target who, against her will, has stolen her heart?
I picked up Grave Mercy on Fry's recommendation, and every time I pick up a book she says I will like, I am almost convinced she knows my taste better than I do! This book was a total win for me, and hooked me into the series immediately.
Ismae is the newest noviate of the Convent of Saint Mortain, the God of Death. After narrowly escaping what would have been a brutal marriage, she is secreted away to the nunnery, where she is told that she has been brought here because she is a Daughter of Death , and therefore is to be trained to carry  out his bidding. Indeed, she has been brought to the convent to be trained as an assassin. Freaking Assassin Nuns!!
The convent and the idea of an order that serves Death was by far the coolest aspect of this book. These nuns are trained every skill required to function an assassin, including poison, combat, weaponry, and even seduction. They're bad-ass! The creativity and complexity of their strategies and their weaponry (bracelet garrotes, hair snood pearls of poison, asphyxiation candles) were fabulously intriguing and exciting. If I had one complaint, it would be that the time spent at the convent was only the prelude rather than the meat of the story.
The concept of Saint Mortain (death) and Death's Daughters was fascinating, and how every noviate was marked by death in their own unique way – like Ismae's scars, caused by her mother's attempt to abort her – gave real depth to the characters and their personal motivations for being where they were. It also piqued my interest for the side characters, so it pleased me greatly to learn this was going to be a series.
Another brilliant positive note of this book was Robin LaFevers' ability to blend real world history  and political intrigue with her fictional ideology of new gods, and branch of assassin nuns. She paints Anne of Brittany with great respect and gave depth of character to even the most superfluous of historical names for added layers of motivation and mystery. The historical elements were such a focus that the slow burning romance between the two main characters was not allowed to overwhelm the story, which is precisely how I like it!
My only real complaints about Grave Mercy fall on the limited insight into the convent, and how eventually, Ismae rejects the convent and their teachings so easily. Ultimately, the abbess and the place she placed so much faith in is swiftly painted in a bad light, and she automatically turns away from all that she has learned, as if it were so easily accepted.  This is a problem I generally have with YA writing. The essentialization of the convent's actions felt a bit weak here, but they have two more books to expand on this feeling and make it right.