I received this book for free from Netgalley in exchange for an honest review. This does not affect my opinion of the book or the content of my review.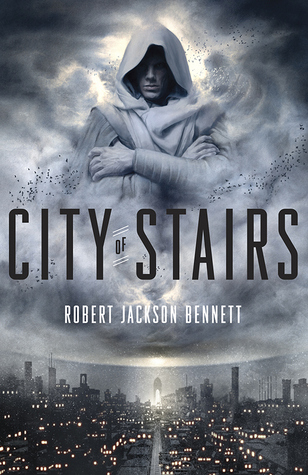 City of Stairs by Robert Jackson Bennett
Published by Broadway Books on September 9th, 2014
Genres: Fantasy, Mystery
Pages: 448
Source: Netgalley
Goodreads


Amazon •
A densely atmospheric and intrigue-filled fantasy novel of living spies, dead gods, buried histories, and a mysterious, ever-changing city-from one of America's most acclaimed young SF writers.

Years ago, the city of Bulikov wielded the powers of the Gods to conquer the world. But after its divine protectors were mysteriously killed, the conqueror has become the conquered; the city's proud history has been erased and censored, progress has left it behind, and it is just another colonial outpost of the world's new geopolitical power. Into this musty, backward city steps Shara Divani. Officially, the quiet mousy woman is just another lowly diplomat sent by Bulikov's oppressors. Unofficially, Shara is one of her country's most accomplished spymasters-dispatched to investigate the brutal murder of a seemingly harmless historian. As Shara pursues the mystery through the ever-shifting physical and political geography of the city, she begins to suspect that the beings who once protected Bulikov may not be as dead as they seem-and that her own abilities might be touched by the divine as well.
City of Stairs was very luscious and flavorful, rich with outstanding characters and extensive world-building. Yet, somehow, it managed to still remain droll and ineffectual.
The beginning opens with a trial, showing just how the hierarchy and the system of rules on the Continent work. No one is allowed to discuss the gods or hint at the divine in any manner. To do so is against the law. The reason for this is that the Saypuri occupation in Bulikov, the Continent's capitol, does not wish for the inhabitants to feel as though they are still favored by the divine. The gods are dead, the Saypuri killed them, the end.
Bulikov is a strange city, indeed. Parts of it were crafted by the gods, and when certain gods were destroyed, parts of the city just disappeared. The city shrunk catastrophically, and even though there has been some rebuilding in the years past, there are still hundreds of staircases to nowhere.
The main plot line of the story seems akin to something you would find in a Dan Brown novel. Our main character Shara is a hobby historian, though I get the feeling that she would throw herself into history head on if she wasn't so apt at being a spymaster and wasn't pressured so hard by her aunt to preform well for the good of the country.
She travels to Bulikov to investigate the death of one of her more friendly acquaintances, an actual historian, mired deep in the city's history and the history of the gods. He must have uncovered something dangerous to be assassinated so and a cursory look at his body reveals a note in code which leads Shara to a lock box and a journal full of information that she's been expressly forbidden to look at. Not that looking in the journal would have sped the books conclusion forward. In looking about town for the killer, Shara uncovers a host of divine artifacts, a cult and a plot to destroy her country.
At a certain point, its less about conspiracies and more about battling fantastical creatures. Not only does Shara have to battle a few gods personally, but there is a divine retributionist in the shape of a large squid prawn wreaking havoc all over town. Politics are thrown out the window in the place of overarching horrors. And so the book continues until the journals are finally open and conclusions are met.
The characters themselves were fantastically written and full of depth. Shara herself is host to doubts that plague her otherwise genius level expertise. She traverses a lot of situations by brain alone, having to leave the brawn to her traveling secretary.
Sigrud, Shara's companion and secretary, is a large overbearing man who can take several punches and not go down. He jumps into frays with little thought to his own safety and comes out the other side battered but victorious. A deposed prince, who's family was all murdered or sent into hiding, he is morose and feels he has nothing to live for but Shara's purpose. And so, he does her bidding without many questions and drifts through existence from one bloody battle to the next.
Vohannes, a Continental, one of the most prestigious and wealthy men in Bulikov. He was also Shara"s college lover and they weave an intricate dance of familiarity despite his strange behavior.
The world building is wonderful. There is a rich history to delve into with several false accounts layered on top. The story itself weaves through the issues of slavery, oppression and religion quite fluidly . I just wish that there was more excitement to be had. With all the trappings of a successful fantasy novel, the plot itself plods on, even during points that should be exciting. There is no sense of urgency with the sentence structure, everything maintains the same pace. An excerpt from a inventory manifest is given the same interest as the full lethal bearing of a vengeful god.
Lots of potential to be had in this book. I can see why people enjoy it tremendously. I, for one, enjoy more of a quick pace when reading. Or, at least, expect a bit more excitement.