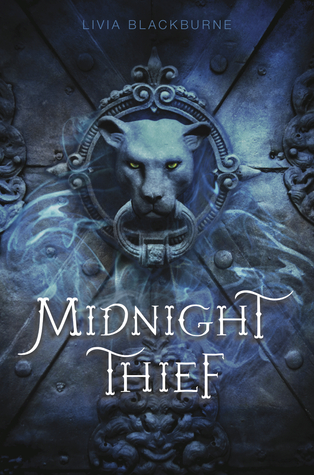 Midnight Thief by Livia Blackburne
Series: Midnight Thief #1
Published by Disney-Hyperion on July 8th, 2014
Genres: Fantasy, Young Adult
Pages: 368
Goodreads


Amazon •
Growing up on Forge's streets has taught Kyra how to stretch a coin. And when that's not enough, her uncanny ability to scale walls and bypass guards helps her take what she needs.

But when the leader of the Assassins Guild offers Kyra a lucrative job, she hesitates. She knows how to get by on her own, and she's not sure she wants to play by his rules. But he's persistent—and darkly attractive—and Kyra can't quite resist his pull.

Tristam of Brancel is a young Palace knight on a mission. After his best friend is brutally murdered by Demon Riders, a clan of vicious warriors who ride bloodthirsty wildcats, Tristam vows to take them down. But as his investigation deepens, he finds his efforts thwarted by a talented thief, one who sneaks past Palace defenses with uncanny ease.

When a fateful raid throws Kyra and Tristam together, the two enemies realize that their best chance at survival—and vengeance—might be to join forces. And as their loyalties are tested to the breaking point, they learn a startling secret about Kyra's past that threatens to reshape both their lives.
This is one of those books that, on the surface, looks like it could be hit or miss for me. Don't get me wrong, I love me some young adult epic fantasy, I really do. I grew up reading things like Redwall and The Song of the Lioness. It's just so easy to get wrong sometimes, yet, when they get it right, they usually get it oh so very right.
You can almost separate this book into sections, Kyra's time with the guild, Kyra's time with the court, and Kyra's time with the Demon Riders. Neither section offers the same challenges and each section forces Kyra to grow and change.
Kyra starts off being propositioned by James, the leader of the local assassin's guild. He needs a fleet-footed thief for more delicate tasks. Kyra agrees to take on the tasks that don't involve murder, opening herself up as an important aspect for hatching a conspiracy that she has been otherwise kept in the dark about. When she learns the true motives of the assassins guild, and is sent on a mission to assassinate a high ranking official, her hesitation to shed blood gets her captured.
What follows is tried and true fantasy blackmail. Kyra ends up being poisoned, and she will only get the antidote if she preforms tasks for the council against her former employer. The book takes several twists and turns from this point, none of which I want to get into, lest I spoil it for the rest of you. Let's just say, despite a few cliche'd and obvious reveals, I was pleasantly surprised with how the story itself turned out. Yes, the first chunk of the book is a little slow, but it certainly picks up in the second act.
Most of the characters are three dimensional, yet there are a few that retain simple, singular traits and motivations. Whether this is because we don't see much of them or because they're useful as plot points and examples, I'm not sure.
Our other point of view character is Tristram, a recently knighted young man from holdings in the wilderness. He doesn't go through as extreme a character arc as Kyra does, but he does retain his scruples and isn't contradictory. Yeah, he's the standard knightly type, chivalrous and full of revenge when his comrades bite it, but at least he stays that way throughout the book.
Anyway, the book is a slow burn, building tension until it coalesces into an exciting conclusion. I will most certainly be continuing this series. The novella might not have sold me, but the novel has.