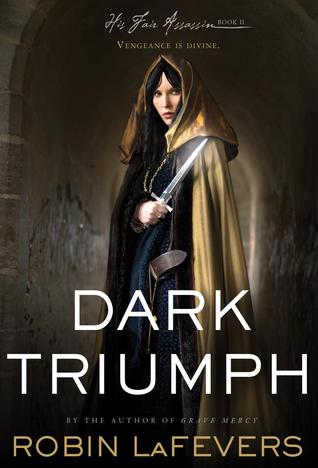 Dark Triumph by Robin LaFevers
Series: His Fair Assassin #2
Published by Houghton Mifflin on April 2, 2013
Genres: Fantasy, Paranormal
Pages: 385
Source: Purchase
Goodreads

When Sybella arrived at the doorstep of St Mortain half mad with grief and despair the convent were only too happy to offer her refuge - but at a price. The sisters of this convent serve Death, and with Sybella naturally skilled in both the arts of death and seduction, she could become one of their most dangerous weapons.



But her assassin's skills are little comfort when the convent returns her to the life that nearly drove her mad. Her father's rage and brutality are terrifying, and her brother's love is equally monstrous. But when Sybella discovers an unexpected ally she discovers that a daughter of Death may find something other than vengeance to live for...
Immediately after finishing Grave Mercy, I dove into Dark Triumph. I was still enamored with the idea of assassin nuns, and wanted to know more about the characters only briefly touched on in the first novel.
Sybella is everything that Ismae was not. Whereas Ismae is the calm, controlled noviate with a special affinity for poison, Sybella is all wildness and unrefinement, who prefers knives and other weapons to kill. She is rough, brutal-tongued, and takes a lot less shit from anyone which makes her  an independent, unpredictable wild card.
For all Sybella's rough edges, she was also an easier character for me to feel for, and easily visualize. Even though the author portrays her as dark-haired, her personality and how she was written totally gave off an Orphan Black Helena vibe that I couldn't shake- which totally endeared me to her more.
Sybella's life story is also far more crazy, more tragic and more complex than Ismae's was –  she has clearly experienced far deeper losses, and had to contend with the inconveniences of her blood ties. This weaves throughout the story in dramatic reveals that were difficult to see coming. Sybella's story follows the events of Grave Mercy, but also enriches those events by revealing far more about those cast as villains. She is stationed in the d'Albret household, and while she is the perfect candidate for the role, it puts her in a place where she is constantly in danger everywhere, and from everyone.
This sense of imminent danger is more pervasive in Dark Triumph, which made it a more thrilling and enticing read. Sybella is directly in the thick of the turmoil and conflict, and has to be proactive not only to save her own life, but to keep Brittany from imploding in chaos. As the story progresses and a love interest for Sybella emerges, the romance of this book was far more unlikely and unique than the 'hate you than love you' romance of Ismae and Duval, and this on some level made it more believable. At first, it may have come across as forced, but considering Sybella's obstinance, letting anyone close to her would be forced initially.
Again I complain over the lack of true insight into the convent, though I know that book three of this series will not be able to avoid really delving into the order of Saint Mortain, to give me the answers I am craving. Other than that, there is very little to gripe about. Dark Triumph solidified my love for this series, and I just can't wait for Mortal Heart to come out. I'm dead curious now to see how twisted and complex Annith's story could be!