I received this book for free from Arc Tour in exchange for an honest review. This does not affect my opinion of the book or the content of my review.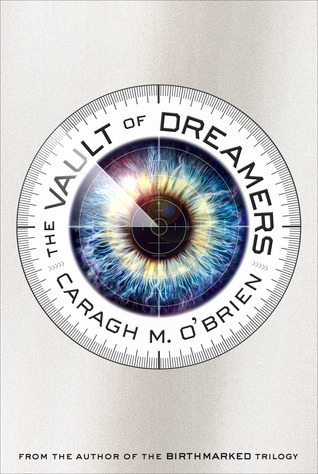 The Vault of Dreamers by Caragh M. O'Brien
Published by Roaring Book Press on September 16th, 2014
Genres: Mystery, Science Fiction, Young Adult
Pages: 432
Source: Arc Tour
Goodreads


Amazon •
From the author of the Birthmarked trilogy comes a fast-paced, psychologically thrilling novel about what happens when your dreams are not your own.

The Forge School is the most prestigious arts school in the country. The secret to its success: every moment of the students' lives is televised as part of the insanely popular Forge Show, and the students' schedule includes twelve hours of induced sleep meant to enhance creativity. But when first year student Rosie Sinclair skips her sleeping pill, she discovers there is something off about Forge. In fact, she suspects that there are sinister things going on deep below the reaches of the cameras in the school. What's worse is, she starts to notice that the edges of her consciousness do not feel quite right. And soon, she unearths the ghastly secret that the Forge School is hiding—and what it truly means to dream there.
Thank you, On The Same Page, for sending me this lovely ARC! 
I'm going to have an awful hard time reviewing this book because the last chapter went completely pear shaped. I have a vague sense of what happened, which I think is the point, but it was still disorienting and upsetting. If this is a series, the ending is quite bleak, and the next book would have to come from a different POV. If it's a standalone, damn, that's one depressing ending.
Up until everything goes sideways, the book is pretty interesting –interesting in a train wreck sort of way. This is good, because the book itself is set in a reality television show and it's supposed to be a train wreck. No one wants to watch a reality show that offers little drama or crazy antics.
Forge school is home of a prestigious arts academy and all the students are filmed daily. The whole theory is something about harnessing their creativity and forcing them to do their best because everyone is watching. It offers pretty much any sort of art you can imagine from video game design to musical instruments to film and acting. One of the main rules is that the students must take a sleeping pill and sleep from 6pm to 6am. The long sleep is supposed to help ease the stress and create creative breakthroughs.
But what exactly happens during those sleeping hours? Rosie misses seeing the night so bad that she skips her sleeping pill and during her sneaking around discovers a dark mystery. This, she immediately attempts to pick at, despite the rules and her budding relationships. Even when the stakes are extremely high, she continues to bumble forward, despite doubts and horrible punishments. Girl needed to dial it back a bit.
The romance offered is superficial, and even when attempting to show the budding feelings, it is made less meaningful by actions immediately following. Clearly, this is Rosie's problem as she was the one doing most of the manipulating and using. Yet, having the point of view be all Rosie's, I'm still unsure of Linus's motives or actual feelings. He could have just been having a good time as well.
The book is definitely a guilty pleasure read. It was fun while it lasted.