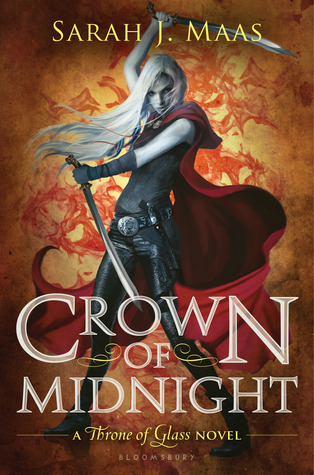 Crown of Midnight by Sarah J. Maas
Series: Throne of Glass #2
Published by Bloomsbury Publishing USA on August 27, 2013
Genres: Fantasy, Romance, Young Adult
Pages: 420
Source: Amazon, Audible, Purchase
Goodreads


Amazon •
From the throne of glass rules a king with a fist of iron and a soul black as pitch. Assassin Celaena Sardothien won a brutal contest to become his Champion. Yet Celaena is far from loyal to the crown. She hides her secret vigilantly; she knows that the man she serves is bent on evil.



Keeping up the deadly charade becomes increasingly difficult when Celaena realizes she is not the only one seeking justice. As she tries to untangle the mysteries buried deep within the glass castle, her closest relationships suffer. It seems no one is above questioning her allegiances—not the Crown Prince Dorian; not Chaol, the Captain of the Guard; not even her best friend, Nehemia, a foreign princess with a rebel heart.

Then one terrible night, the secrets they have all been keeping lead to an unspeakable tragedy. As Celaena's world shatters, she will be forced to give up the very thing most precious to her and decide once and for all where her true loyalties lie...and whom she is ultimately willing to fight for.
Crown of Midnight is so much better than the first book Throne of Glass.  I have become a convert!  I am now a Throne of Glass fangirl because I am in so much like with this series after reading Crown of Midnight!  There is action, romance, and gut wrenching heartbreak. I stayed up into the wee hours of the night because I couldn't put this book down. My book hangover at work the next day was completely worth it. Crown of Midnight is so good that it even has Darth Vader dancing with glee.
Crown of Midnight picks up a couple of months after Throne of Glass.  Celaena Sardothien has become the King's Champion. It turns out that being the King's Champion involves more than assassinations; it also involves one mystery after another. Celaena finds herself falling deeper and deeper into a plot of treachery. By the time she finds out who she can trust she just might lose everything. I found myself on the edge my seat right along with Celeana because I could not put this book down, it was just that good.  I liked the mystery, the shocking revelations, and of course the kissing. This book was far from boring.  One minute I was flying high, and the next I was close to tears in the depths of despair.  Crown of Midnight was so good that started listening it and by the next day I had bought the kindle book so that I could home from work and finish reading it.  I might even have a new book boyfriend, ahem ahem, Chaol.
Without giving away too many spoilers away, because this book does have one revelation after the other, the thing that I will say is I liked it, I really liked it.  So, this review has ended up being very short and oh so sweet. Many things happen in this book that I don't want to ruin the surprises. Go read this book because you will not be disappointed. I will be picking up the next book Heir of Fire because I cannot wait to read it. I am glad I stuck with the Throne of Glass series because it is like fine wine and just gets better and better. I give Crown of Midnight four stars because it most definitely left me on a nice cloud of happy.