I received this book for free from Netgalley in exchange for an honest review. This does not affect my opinion of the book or the content of my review.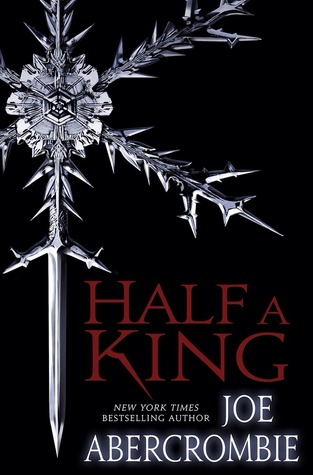 Half A King by Joe Abercrombie
Series: Shattered Sea #1
Published by Del Rey on July 15th, 2014
Genres: Fantasy, Young Adult
Pages: 352
Source: Netgalley
Goodreads

"I swore an oath to avenge the death of my father. I may be half a man, but I swore a whole oath." 
 


Prince Yarvi has vowed to regain a throne he never wanted. But first he must survive cruelty, chains, and the bitter waters of the Shattered Sea. And he must do it all with only one good hand.




 


The deceived will become the deceiver.
 


Born a weakling in the eyes of his father, Yarvi is alone in a world where a strong arm and a cold heart rule. He cannot grip a shield or swing an axe, so he must sharpen his mind to a deadly edge.




 


The betrayed will become the betrayer.
 


Gathering a strange fellowship of the outcast and the lost, he finds they can do more to help him become the man he needs to be than any court of nobles could.




 


Will the usurped become the usurper?
 


But even with loyal friends at his side, Yarvi finds his path may end as it began—in twists, and traps, and tragedy.
I was reading this book in tandem with The Last Argument of Kings, the last installment in Abercrombie's The First Law series. Perhaps that wasn't a good idea. It made it glaringly obvious where the book was being trimmed and edited for the young adult crowd, and I started grumpily referring to it as Diet!Abercrombie.
Yes, this book offers all the intrigue and blood and crappy situations that I've come to expect from Joe Abercrombie's work. The problem was it lacked all the depth. Everything was watered down. The basic plot moved by quickly without much depth or stalling, even for important things. One plot point moves into the next without pause. By the time the big reveal at the end is shown, I shrugged my shoulders and didn't really care. It wasn't a big shock. None of it was.
Yarvi as a character did grow from the whiny boy he started as into a functioning part of society. The other characters, while making sure Yarvi's complaining didn't take up all the prose, were pretty much there to move the plot forward. Even when they declared their romantic feelings, died or left Yarvi's company- my field of fucks was barren.
The quick pace makes the book seem shorter than it is, which is probably a good thing. I don't think I could handle any more pages of meh. The master craftmanship I was expecting was utterly missing and I finished it partially because Richard made me and partially because I was searching for that spark and fire that I'm so used to. Hopefully this isn't just a case of Abercrombie selling out to the YA crowd with a cruddy series.
Maybe with the next book he will have found his footing and a more unique balance. I will certainly give it a try. I have yet loved his other books, even though I'm partway through Best Served Cold.
I would recommend this for people who haven't read Abercrombie before. It seems like a good introduction to his abrupt evisceration and plot twists and from what I can tell my friend Richard really enjoyed it. Unfortunately, for me, I found it lacking in all the things that drew me to his writing in the first place.