I received this book for free from Netgalley in exchange for an honest review. This does not affect my opinion of the book or the content of my review.
This review contains spoilers. Read at your own risk.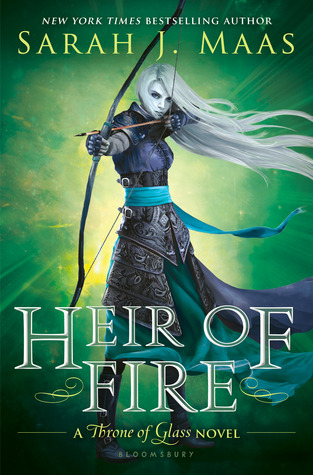 Heir of Fire by Sarah J. Maas
Series: Throne of Glass #3
Published by Bloomsbury Publishing USA on September 2, 2014
Genres: Fantasy, Young Adult
Pages: 565
Source: Netgalley
Goodreads


Amazon •
Lost and broken, Celaena Sardothien's only thought is to avenge the savage death of her dearest friend: as the King of Adarlan's Assassin, she is bound to serve this tyrant, but he will pay for what he did. Any hope Celaena has of destroying the king lies in answers to be found in Wendlyn. Sacrificing his future, Chaol, the Captain of the King's Guard, has sent Celaena there to protect her, but her darkest demons lay in that same place. If she can overcome them, she will be Adarlan's biggest threat – and his own toughest enemy.

While Celaena learns of her true destiny, and the eyes of Erilea are on Wendlyn, a brutal and beastly force is preparing to take to the skies. Will Celaena find the strength not only to win her own battles, but to fight a war that could pit her loyalties to her own people against those she has grown to love?
I would have to say this book starts out a little slow, but if you are like me and stick with it then the book does pay off in the end. If you have not read any of the other books then read no further. There might be some spoilers in this review.
Heir of Fire is very much an epic fantasy. There is some kissing (though not much), lots of despair, lots of action, and (what I liked most) it is full of hope. I think that if I could describe the theme of Heir of Fire in one word it would be: Hope.
Heir of Fire picks up some weeks after Crown of Midnight. Celaena has left Adarlan and is in Wendlyn per the request of the king. She is broken after the events of the last book. She is not in a good place and is just going through the motions of living. She can't bring herself to do the mission the king wants and she can't bring herself to take care of the promises she made. When she is confronted by a Fae warrior with summons from the Queen she looks at as an opportunity to finally start making good on that promise she made.
Meanwhile, Dorian and Chaol are back at the palace and they too, are broken and hurting. Chaol still loves Celaena and of course will always want to protect his friend, Dorian. Chaol finds himself getting in deep with a band of rebels. Dorian is hurt because everyone he loved has shut down, and so Dorian finds solace and healing by falling in love. New characters are introduced because everyone is scattered and off on their own. Celaena is training with Rowan, the Fae warrior, for access to questions only the queen can answer. The best way I can describe this book is that it kind of reminded me of Empire Strikes Back. Celaena the hero is off training, meanwhile her friends are off their own falling into subplots, but everyone in the end is working toward the same goal. Find a way to bring down the evil King of Adarlan.
I really ended up liking Heir of Fire in the end, because every character, even the new ones that are introduced, have to grow up. This book was about growing up and changing. Learning to hone in on the strengths and find ways to control the weaknesses. There was a lot, and I mean a lot, of angst but it is all explained, and that is what I liked in the end. In between the angst, there was a ton of action to keep this book very entertaining: there were giant talking spiders, flying beasts of legend, and there was even some mystery in a creature that drains victims dry. I was never bored while reading this book. There were times when all the angst was a bit annoying, but I liked that it was evened out with the action and mystery.
In the end I am giving Heir of Fire four stars because it did leave me on a nice cloud of happy. After the events that take place at the end of this book I am now even more invested in the lives of these characters. I cannot wait to find out what happens next!