I received this book for free from Edelweiss in exchange for an honest review. This does not affect my opinion of the book or the content of my review.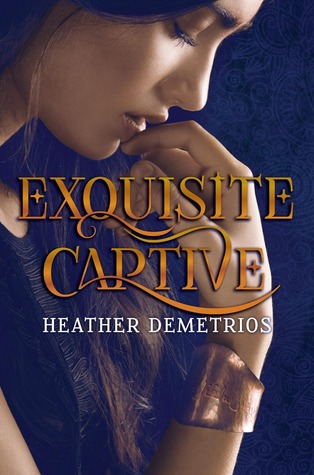 Exquisite Captive by Heather Demetrios
Series: Dark Caravan Cycle #1
Published by Balzer + Bray on October 7th, 2014
Genres: Fantasy, Young Adult
Pages: 480
Source: Edelweiss
Goodreads


Amazon •
Forced to obey her master.
Compelled to help her enemy.
Determined to free herself.

Nalia is a jinni of tremendous ancient power, the only survivor of a coup that killed nearly everyone she loved. Stuffed into a bottle and sold by a slave trader, she's now in hiding on the dark caravan, the lucrative jinni slave trade between Arjinna and Earth, where jinn are forced to grant wishes and obey their human masters' every command. She'd give almost anything to be free of the golden shackles that bind her to Malek, her handsome, cruel master, and his lavish Hollywood lifestyle.

Enter Raif, the enigmatic leader of Arjinna's revolution and Nalia's sworn enemy. He promises to free Nalia from her master so that she can return to her ravaged homeland and free her imprisoned brother—all for an unbearably high price. Nalia's not sure she can trust him, but Raif's her only hope of escape. With her enemies on the hunt, Earth has become more perilous than ever for Nalia. There's just one catch: for Raif's unbinding magic to work, Nalia must gain possession of her bottle…and convince the dangerously persuasive Malek that she truly loves him. Battling a dark past and harboring a terrible secret, Nalia soon realizes her freedom may come at a price too terrible to pay: but how far is she willing to go for it?

Inspired by Arabian Nights, EXQUISITE CAPTIVE brings to life a deliciously seductive world where a wish can be a curse and shadows are sometimes safer than the light.
Slavery, lost princesses, ghoulish assassins, and a somewhat half assembled love triangle, this book was full to the brim with interesting characters, world building and excitement. I loved every minute of it and drew out my consumption of the book in order to make it last longer.
Nalia is a jinni. She was captured and sold as a slave, bound to a master, Malek, by an iron bottle. She belongs to him until he makes three wishes. Unfortunately for her, he refuses to offer his third wish. Instead, he makes plenty of effort to woo her. Nalia is, of course, repulsed by the idea, but confounded by her body's reaction. She doesn't have much time to dwell on it, as she's the last of a line of jinni who can control all the elements and first in line for the throne.
Raif, the leader of the revolution on her home world, finds where she is both imprisoned and in hiding and asks her to help him. The fire jinni that destroyed the royal line and took over after the coup are way worse rulers than Nalia's people ever were and so he needs her help to overthrow them and bring a new order to the land. There's just the pesky problem of Nalia's imprisonment, oh and an ghoulish assassin out looking for her.
The love triangle, one side Raif and the other side Malek, feels a bit forced on the Malek side. In fact, I had figured Raif had won until Malek showed up again and started tagging along and being overbearing. I don't really appreciate that, but I suppose he appeals to those who really have a thing for Loki. Not that I'm Team Raif either. I'm fully supportive of Team Zanari, but I have a feeling that that ship won't sail.
Nalia, as a character, had plenty of depth and a biting wit that I can appreciate. Her powers are tempered enough that I don't feel as though she's Mary Sue-ing through the plot. She's got some tragic back story to work through, but doesn't let it overtake her abilities and relationships in the present.
Overall, I loved it and now have a very long wait for the next installment.