I received this book for free from Edelweiss in exchange for an honest review. This does not affect my opinion of the book or the content of my review.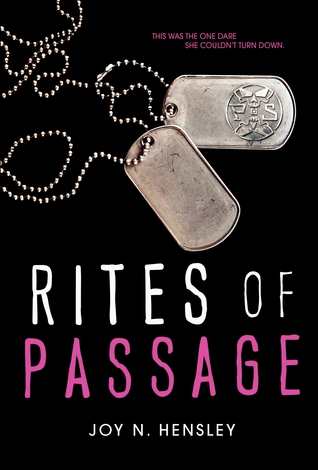 Rites of Passage by Joy N. Hensley
Published by HarperTeen on September 9, 2014
Genres: Contemporary, Young Adult
Pages: 416
Source: Edelweiss
Goodreads


Amazon •
Sam McKenna's never turned down a dare. And she's not going to start with the last one her brother gave her before he died.

So Sam joins the first-ever class of girls at the prestigious Denmark Military Academy. She's expecting push-ups and long runs, rope climbing and mud-crawling. As a military brat, she can handle an obstacle course just as well as the boys. She's even expecting the hostility she gets from some of the cadets who don't think girls belong there. What she's not expecting is her fiery attraction to her drill sergeant. But dating is strictly forbidden and Sam won't risk her future, or the dare, on something so petty...no matter how much she wants him.

As Sam struggles to prove herself, she discovers that some of the boys don't just want her gone—they will stop at nothing to drive her out. When their petty threats turn to brutal hazing, bleeding into every corner of her life, she realizes they are not acting alone. A decades-old secret society is alive and active… and determined to force her out.
At any cost.

Now time's running short. Sam must decide who she can trust...and choosing the wrong person could have deadly consequences.
I ended up really liking this book. I am all about books that promote girl power.
I have these read these types of books before about the tough as nails girl going to military academy and having to prove she can keep up with the boys. Don't get me wrong, I these types books are awesome because girls can do whatever they set their minds too. What set Rites of Passage apart was that isn't what just a girl proving herself in the face of bullies; but a girl caught up in a mystery that could bring down the school and prominent military figures.
Samantha "Sam" gets into Denmark Military Academy as one of the first four female students ever accepted. They train for all types of military careers but one specialty is an Army Ranger. The work outs are brutal and the training is hardcore. Samantha's father and brothers went to this academy so she has something to prove. Some of the boys don't want her at Denmark and the secret society they work for will stop at nothing to get her kicked out. Samantha doesn't know who to trust. Of course, her cutie drill sergeant is the only person she can turn to.
This book was a very fast paced read. I picked up one afternoon and had it read that night. Like I have said, a girl proving herself in any military situation fascinates me. I know that I would fail miserably at stuff like that but I admire any female able and willing to prove she can do anything males can do. I didn't even roll my eyes when Sam started to have feelings for "Drill." It is happens at any coed school the girls and boys are always going want to date even if they have to do it in secret. I just felt bad that Sam's relationship was kind of doomed from start. Superiors are never allowed to be with Subs, in school or enlisted. I was intrigued by the whole some body from the skull and crossbones set was out to get her. It gave the book a GI Jane meets The Skulls vibe. The deeper Sam started to delve into just who all wanted her out the more dangerous it got. I found myself on the edge of seat because there was a twist in the story with even her own brother.
Rites of Passage was fun, hardcore read about a girl proving she has what it takes. It was fast paced and had everything I like in a good book: kissing with cute boys, girl power, and mystery. I recommend this book for a nice entertaining read. I am giving it four stars because it did leave on a nice cloud of happy.