I received this book for free from Edelweiss in exchange for an honest review. This does not affect my opinion of the book or the content of my review.
This review contains spoilers. Read at your own risk.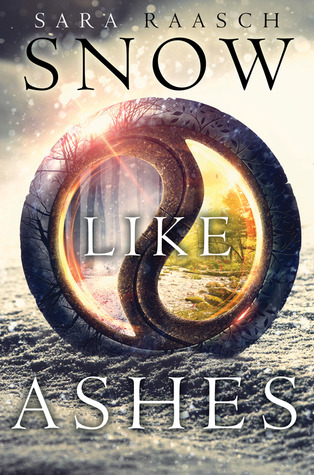 Snow Like Ashes by Sara Raasch
Series: Snow Like Ashes #1
Published by Balzer + Bray on October 14, 2014
Genres: Fantasy, Young Adult
Pages: 432
Source: Edelweiss
Goodreads


Amazon •
A heartbroken girl. A fierce warrior. A hero in the making.

Sixteen years ago the Kingdom of Winter was conquered and its citizens enslaved, leaving them without magic or a monarch. Now, the Winterians' only hope for freedom is the eight survivors who managed to escape, and who have been waiting for the opportunity to steal back Winter's magic and rebuild the kingdom ever since.

Orphaned as an infant during Winter's defeat, Meira has lived her whole life as a refugee, raised by the Winterians' general, Sir. Training to be a warrior—and desperately in love with her best friend, and future king, Mather — she would do anything to help her kingdom rise to power again.

So when scouts discover the location of the ancient locket that can restore Winter's magic, Meira decides to go after it herself. Finally, she's scaling towers, fighting enemy soldiers, and serving her kingdom just as she's always dreamed she would. But the mission doesn't go as planned, and Meira soon finds herself thrust into a world of evil magic and dangerous politics – and ultimately comes to realize that her destiny is not, never has been, her own.
Snow Like Ashes is the kind of book that sucks you in and doesn't let go until the very last word. Or at least that was true for me. After I read the last word I knew this was a book I was going to want to share with all my friends and family. Why? Because it had it all: kissing, epic battles, and of course a heroine out for vengeance. I know this sounds similar to other books out there because it seems everyone is hopping on the epic fantasy bandwagon, but believe me this book does not disappoint and I really like it.

I think the thing that really sealed the deal for me was the world building. I liked this world filled with magic, season kingdoms, and rhythm kingdoms. Snow Like Ashes is a world comprised of eight kingdoms: four kingdoms that are dedicated to each season and four kingdoms that cycle through all four seasons. The one thing all the kingdoms have in common is an ability to use magic. Winter kingdom just happens to sit on the well of magic so to speak, so of course, that makes them a target for the other kingdoms. One day the king of spring comes in kills the Queen of Winter and enslaves the people of winter. There were a handful of survivors that managed to escape the King of Spring enslavement and are on the run.
Meria just happens to be one of those survivors. Orphaned on the night of the battle, she has been raised on the run by the general of Snow. They have a plan to get their magic back and bring down the King of Spring. In order to do that they end up requiring the help of one the kings of a rhythm kingdom. Of course, the political intrigue ensues and Meira finds herself betrothed to the prince. She gets pretty angsty at this point because she felt like she was being used. At this point, I liked the book just ok. Then there is a turning point and as Meria digs for answers and secrets are revealed it then that I was like ok I totally underestimated this book. It was in the last half of the book that I could not put the book down.
I really liked how Meria grows up. I liked seeing her turn from a girl filled with angst and only wanting vengeance if she could do it on her terms; to a young woman with a purpose. In the end, I am giving Snow Like Ashes four stars because I really liked the world, Meria herself, and I liked the story. It was a story about survival and finding something to stand up for. I cannot wait to read the next book in this series and see where the story takes Meira and how she will grow from there.