Time for another Top Ten Tuesday, courtesy of the Broke and the Bookish!
This week's topic is: Ten Authors I've Only Read One Book of, but NEED More!
 Bry:
1. Elizabeth Loupas
Ever since I got my hand on The Red Lily Crown thanks to the author (who is such a lovely woman), I have been dying to read more of her work. I have included one of her other books, The Second Duchess, on a former Top Ten list, (Top Ten Tuesday (12) ), so I will probably start there.
2. Tinney Sue Heath
After reading A Thing Done, its obvious to me that Tinney Sue Heath not only knows her history, but that she can use it to write complex, full characters who are worthy of your emotional investment. I'm not sure her current other works aside from The Patience of Griselda would be up my alley, but there is always potential for that to change.
3. Alana White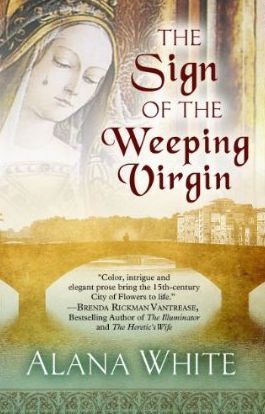 I'm currently savoring The Sign of the Weeping Virgin like it is my Medici-crack fix. This book came into my hands via the author personally, and she is also, the sweetest, kindest lady. As something I already was dying to read, it is hitting every note, and satisfying every little historical fangirl quirk that I have. This WILL be receiving a shining review from me if it keeps on as it is, and then I will have to go after the rest of her work. She writes expertly, and I'm just having the most wonderful time with it.
4. Seanan McGuire
I'm cheating, I'm cheating, I know I am cheating here. Since I've read this author only under her horror pseudonym, Mira Grant, I am going to count that as 'one', since its one facet of herself, and put the October Daye series that she writes under her real name here. Wanna fight about it?
5. Miles J Unger
I'm currently in the process of trying to read this author's Michaelangelo: A Life in Six Masterpieces despite the horrible formatting its giving me on my Kobo. So far, I'm appreciative of his treatment of significant Renaissance figures, and since he has books both on Lorenzo de Medici and Machiavelli, yeah. This guy is for me.
6. John Scalzi
Don't mind me, cheating again. Technically, I've read two by Scalzi (Redshirts and Lock In), and I'm getting the impression from these books that Scalzi is the master of twisting what you think you are about to read into something you couldn't have possibly anticipated. Surprise, social justice robots! Anyways, I have to see if this is a trend in all his books, because I like a man who can throw me for a curve.
7. Tosca Lee

I just finished The Legend of Sheba by Tosca Lee (review coming in the next couple weeks), and she is the most artful master of flowery prose and beautiful imagery. Biblical history isn't usually my thing, but Sheba was just such a gorgeous read that I will definitely be looking for her book Havah: The Story of Eve and Iscariot for sure. Probably more.
 Fry:
1. I'm not even done with this book but Victoria Schwab. So far Vicious is amazing and perfect and I want to shout about it! I'm so glad that Nikki from There Were Books Involved pushed it upon me. At least a few of the books on this list are her fault.
2. Brandon Sanderson. I really need to find time to read The Well of Ascension. I really want to finish this series like burning. I just don't have much time for fun -me- books. I gotta churn out these review books until I have my pile under control!
3. The same goes for Jay Kristoff. I loved Stormdancer. I just don't have time to read Kinslayer. Hopefully I can get to it before Endsinger comes out, or I may cry.
4. Laini Taylor is another author where I read the first in the series and haven't had time to read the rest. Maybe I should make a list of series I need to finish, though, that might make me awfully sad to look at how much a failboat I am.