I received this book for free from Audible, Edelweiss, Purchase in exchange for an honest review. This does not affect my opinion of the book or the content of my review.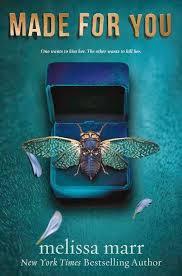 Made For You by Melissa Marr
Published by HarperCollins on September 16, 2014
Genres: Fantasy, Romance, Young Adult
Pages: 368
Source: Audible, Edelweiss, Purchase
Goodreads


Amazon •
Bestselling author of the Wicked Lovely books Melissa Marr's first contemporary YA novel is a twisted southern gothic tale of obsession, romance, and murder. A killer is obsessed with Eva Tilling. Can she stop him, or will he claim her?

When Eva Tilling wakes up in the hospital, she's confused—who in her sleepy little North Carolina town could have hit her with their car? And why? But before she can consider the question, she finds that she's awoken with a strange new skill: the ability to foresee people's deaths when they touch her. While she is recovering from the hit-and-run, Nate, an old flame, reappears, and the two must traverse their rocky past as they figure out how to use Eva's power to keep her friends—and themselves—alive. But while Eva and Nate grow closer, the killer grows increasingly frantic in his attempt to get to Eva.

For the first time, New York Times bestselling author Melissa Marr has applied her extraordinary talent to contemporary realism. Chilling twists, unrequited obsession, and high-stakes romance drive this Gothic, racy thriller—a story of small-town oppression and salvation. Melissa's fans, and every YA reader, will find its wild ride enthralling.
I have to be honest the first time I ever listened to a book by Melissa Marr I had just finished The Hunger Games so I think my option was a little biased. Needless to say, Wicked Lovely will not be making an appearance on any of my top books ever shelves. Since a few, ahem quite a few, years have passed since The Hunger Games and Wicked Lovely hit the shelves I thought I would give another Melissa Marr book a try.
I have to say Made For You is not that bad. It is not a favorite book of all time, but I didn't hate this book. I liked the idea of the story being told from three different point of views and one of them just happens to be the, dum dum dum, killer. The points of Eva the main girl in the story, the object of the killer's affection, and the killer's point of view worked. Chapters in the beginning of the book just felt like filler. It isn't until the end that her point of view really comes into play.
The book is about a girl named Eva that gets hit by a car and survives. From then on her life is turned upside down because since the killer couldn't sacrifice her, he has decided to teach her a lesson. This lesson includes cryptic messages on the dead bodies of her friends. I thought the book was pretty good, but it wasn't the best thing I had listened to. The chapters told from the killer's point of view were creepy creepity creep creep. I think for me that is what saved this book from going down a rating. I thought the first half of Made For You was pretty good and there were times I had goose bumps. Once I had figured out who the killer was and then when it was revealed the rest book was more like the last half of an episode of Criminal Minds. The police, Eva, and everyone is scrambling while the killer is scrambling as well. I didn't think the last book was interesting and I might have zoned out a time or two when listening. All was revealed about 65% way through the book and I thought it should have been later in more of an OMG I can't believe it was him way.
In the end, I give Made For You three stars and a shrug. While I thought Made For You wasn't horrible, it wasn't great either.  I liked the audiobook narrators as well, especially Macleod Andrews, he really makes the voice of the killer so much more creepier.   I think I might I try another Melissa Marr because the third times the charm, right?