I received this book for free from Publisher in exchange for an honest review. This does not affect my opinion of the book or the content of my review.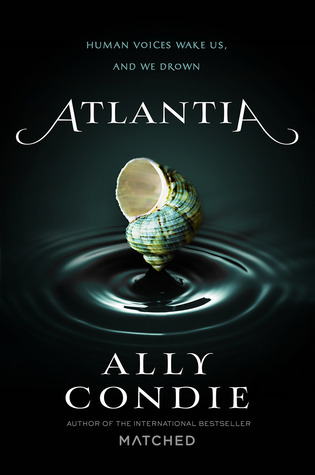 Atlantia by Ally Condie
Published by Dutton Children's on October 28th, 2014
Genres: Science Fiction, Young Adult
Pages: 368
Source: Publisher
Goodreads

Can you hear Atlantia breathing?



For as long as she can remember, Rio has dreamt of the sand and sky Above—of life beyond her underwater city of Atlantia. But in a single moment, all her plans for the future are thwarted when her twin sister, Bay, makes an unexpected decision, stranding Rio Below. Alone, ripped away from the last person who knew Rio's true self—and the powerful siren voice she has long hidden—she has nothing left to lose.





Guided by a dangerous and unlikely mentor, Rio formulates a plan that leads to increasingly treacherous questions about her mother's death, her own destiny, and the complex system constructed to govern the divide between land and sea. Her life and her city depend on Rio to listen to the voices of the past and to speak long-hidden truths.
I finished this book the day before yesterday and I've already forgotten most of the details. It wasn't bad, but it also wasn't spectacular. It was without note and bearing. Just sort of there, I guess. Meh?
I tried reading Ally Condie's other series, Matched, and I got to the third book and while I was curious to see how the story was going to pan out, I wasn't curious enough to pick the book up and actually read it. I mean, the covers were cool and mirrored the three pills, the world building was interesting enough and I wanted to know what would happen to the main character, just… not a lot?
That's how I felt about this book as well. Something about Condie's writing just makes everything middle of the road. The idea of Atlantia is sound and the world building around it is also interesting but I just didn't care. I didn't care about the characters or the setting or if everything imploded. I couldn't muster it.
The story begins with a choice. The children are becoming adults, do they want to live above or stay below in Atlantia. One choice, they don't get to take it back or change their mind or come visit for Christmas. They're taught that Altlantia is the better choice and Rio is expecting to stay below with her sister Bay because Bay pretty much begged her to pick Atlantia over Rio's dream of going above. Psych! Bay decides to go above and leaves Rio in the dust and emotional pain.
So, most of the book is just Rio pining about her sister and attempting to find her way above. She barely trusts her Aunt Maire, who is a siren. Oh, and Rio is also a siren, but she's been pretending to be normal this whole time so that she wouldn't have to be taken away from her family and raised by the underwater council. Rio instead befriends a boy named True, who she lies to about her motives for wanting money and uses gimmicks during her swimming practice to pull in an audience and gain funds. She eventually falls in love with this boy and tells him everything. This is around the time one of Atalantia's bubbles burst and a whole lot of people drown.
Anyway, Rio needs to get above for more than selfish reasons now. She finds her way up there with Maire, avoids being slaughtered at gunpoint and eventually unravels a web of corruption and indifference.
Like I said, not all that interesting. Even when things were happening and people were dying, I could honestly care less. I probably won't be picking up anything else by this author unless other people are randomly wow'd by it.