I received this book for free from Netgalley in exchange for an honest review. This does not affect my opinion of the book or the content of my review.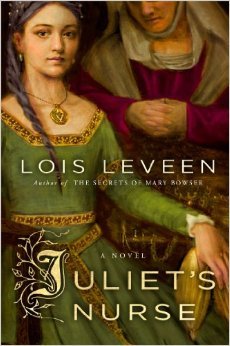 Juliet's Nurse by Lois Leveen
Published by Atria Books on September 23rd, 2014
Genres: Historical Fiction
Pages: 384
Source: Netgalley
Goodreads

In Verona, a city ravaged by plague and political rivalries, a mother mourning the death of her day-old infant enters the household of the powerful Cappelletti family to become the wet-nurse to their newborn baby. As she serves her beloved Juliet over the next fourteen years, the nurse learns the Cappellettis' darkest secrets. Those secrets—and the nurse's deep personal grief—erupt across five momentous days of love and loss that destroy a daughter, and a family.





By turns sensual, tragic, and comic, Juliet's Nurse gives voice to one of literature's most memorable and distinctive characters, a woman who was both insider and outsider among Verona's wealthy ruling class. Exploring the romance and intrigue of interwoven loyalties, rivalries, jealousies, and losses only hinted at in Shakespeare's play, this is a never-before-heard tale of the deepest love in Verona—the love between a grieving woman and the precious child of her heart.





In the tradition of Sarah Dunant, Philippa Gregory, and Geraldine Brooks, Juliet's Nurse is a rich prequel that reimagines the world's most cherished tale of love and loss, suffering and survival.
I have really strong feelings about Shakespeare. Really, not doing right by Shakespeare, or rendering Shakespeare poorly is sort of like insulting my mother – it is going to provoke a reaction, and you're going to be on my shit list. So when requesting this book I was wary, knowing I was either going to be very pleased, or raging.
Turns out, I was pleasantly surprised. Even though Romeo and Juliet is unquestionably my least favourite of Shakespeare's plays, this book helped to situate and ground the flighty characters in an engaging and gratifying POV, contributing to, rather than taking from, my enjoyment.
Juliet's Nurse begins 14 years before the play, on the day that Juliet is born. Our protagonist, Angelica, has just given birth and lost her infant. Despite her grief, she is brought into the home of the noble Cappelletti family to serve as a wet-nurse to the newly born Juliet, who fills her heart with new love.
The first portion of the book follows this new life as a wet-nurse for Juliet, and Angelica's immersion in the noble household. Here, she forges her relationships not only with Juliet who she loves as her own, but also with the young and precocious Tybalt, and even Juliet's miserably depressed mother who she can provide mild comfort to. Angelica becomes an integral figure in the Cappelletti household long after Juliet has been weaned, and is thus present to witness the unfolding of the events that mark Romeo and Juliet.
Overall, Angelica is the sort of character who is instantly and intensely likeable. This is a woman who is well loved by her husband Pietro and loves him passionately in return – and has no shame about relishing in the pleasures married couples enjoy together. She has also had a full family, and despite having lost all her children to disease, she still has an incredible amount of love to give and doesn't rely on tragedy to inspire feelings for her. Best of all, Angelica doesn't take shit from anyone and even when being respectful of her place, this isn't a woman to be pushed around meekly.
This book is rich in strengths. I truly appreciated how the author situates the story of Romeo and Juliet within the historical contexts of 16th century Verona, and opts to un-Anglicize some of Shakespeare's work (ie, using the proper Italian names Cappelletti and Montecchi in lieu of Capulet and Montague), and draws attention to many of the less discussed facts of 16th century life. The novel narrative allows for frank discussions on contemporary medicine in all its odd practices, and the harsh realities of life as an impoverished citizen. The author hasn't shied away from infant mortality, disease, the traditional un-involvement of noble parents with their children or how ugly noble marriages can be either.
Additionally, the book has given actual personality to characters who only serve in the background of the play, beyond Angelica. Lady Cappelletti becomes more than just the figure who presses for her daughter's marriage, she becomes the sickly maltreated second wife constantly in the shadow of the preferred woman, full of resentment and sadness. Lord Cappelletti becomes more than just a name, he becomes the gruff, unyielding Lord without much concern for womanly emotion. Mercutio is not just the friend to die nobly, he is essentially a twat. Even the Friar becomes an integral character with his own motives and definable personality, which conflicts the reader as to whether or not he should be trusted, or liked!
Unfortunately, the book is not all strengths, and things generally start to fall apart about where the plot reaches the beginning of the play. At this point, the language changes drastically in favor of the more Shakespearean phrasing and cadence, and the transition is jarring and awkward. Had the whole book been written in that style it would have been fine, but to shift so dramatically took away from my emotional investment.
Also, because from this point the reader generally knows the story, it seems as if the plot is rushed forward. I had anticipated this section to actually be the most interesting part of the book, but it ended up paling in comparison to Angela's casting of her earlier life. Perhaps because of this, Juliet and Romeo as teenagers aren't particularly interesting or compelling… but that does mirror with my feelings about the play. It certainly did highlight how rash and bizarre their actions were though!
Finally, I really wasn't feeling the suggestion that Juliet might have been Angelica's biological child all along. It felt forced, it felt unnecessary, and it wasn't something I saw as adding any value to the story. Don't try and twist Shakespeare like that Lois Leveen, you were doing so well!
Ultimately, I'd call this a win, but it was a risky win. I wish the book had continued like the first half, but that first half was in fact strong enough to carry the rest.