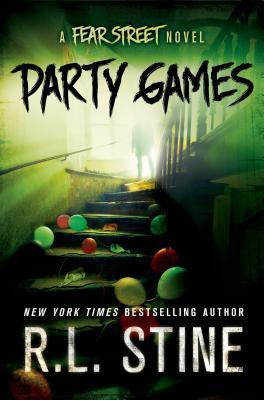 Party Games by R.L. Stine
Series: Fear Street
Published by St. Martin's Griffin on September 30, 2014
Genres: Horror, Young Adult
Pages: 288
Source: Audible, Purchase
Goodreads


Amazon •
Her friends warn her not to go to Brendan Fear's birthday party at his family's estate on mysterious Fear Island. But Rachel Martin has a crush on Brendan and is excited to be invited. Brendan has a lot of party games planned. But one game no one planned intrudes on his party—the game of murder. As the guests start dying one by one, Rachel realizes to her horror that she and the other teenagers are trapped on the tiny island with someone who may want to kill them all. How to escape this deadly game? Rachel doesn't know whom she can trust. She should have realized that nothing is as it seems… on Fear Island.

R.L. Stine makes his triumphant return to Shadyside, a town of nightmares, shadows, and genuine terror, and to the bestselling series that began his career writing horror for the juvenile market, in the new Fear Street book Party Games.
If you don't know me then you don't know that the last three months of the year are my favorite time of the year. Scary times, good food and presents. I love that October kicks off my favorite time of the year because Halloween is one of my favorite holidays. To celebrate Halloween there will be a lot of books this month that have or feature things that go bump in the night.
To kick things off I went back to one of my favorite YA horror series Fear Street. That is right folks, R.L. Stine decided to come back to Fear Street with a brand new story called Party Games. I knew instantly I had to read/listen to this book because when I was in middle and high school, back in the day, all I read was YA paranormal/horror novels. No joke, my dad would travel for work and bring me back books from the airport based on the covers alone. You know the covers with some horrified girl, a skull, a knife, or some combination of all three. They were cheesy covers to match cheesy story lines but I love them even to this day.
Party Games is no exception in the cheesy story line department. It starts kind of good and then takes a nose dive into wow I expected something better. The book is about a girl named Rachel Martin and she gets invited to a party by the boy she has a crush on. Of course, nothing is going to stop this girl from going to the party: not warnings from her best friend, her ex-boyfriend, and even finding a dead rat in her bed. She has a super crush on Brendon Fear and nothing is going to stop from going to an all-night party at his island estate. Then super creepy stuff starts happening because supposedly the estate is haunted. When kids at the party start turning up dead things get real.
I know this sounds like a bunch of other horror plot lines out there. I was okay with that, I liked the games the killer playing. Then things take a turn and after the big reveal, I was like, really. I just listened to four hours of this book for that. In the end, I didn't hate the book but I sure as heck didn't love it either. The very very end of this book was just creepy enough that I might visit Fear Street again but it better be what I always have liked because I might not come back. Party Games started out like what I remember I always liked about Fear Street novels. They were like cheesy teenage slasher films in book form. Party Games in the end felt like a deflated balloon. I am giving this book three stars because it just gets a shrug.