This review contains spoilers. Read at your own risk.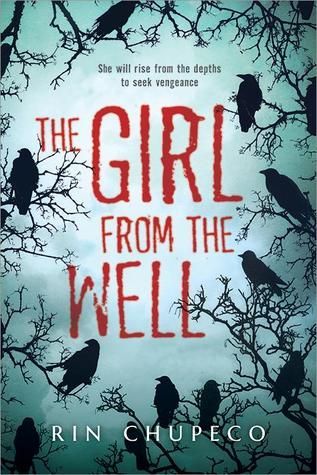 The Girl From The Well by Rin Chupeco
Published by Sourcebooks Fire on August 5th, 2014
Genres: Horror, Young Adult
Pages: 267
Source: Purchase
Goodreads

You may think me biased, being murdered myself. But my state of being has nothing to do with the curiosity toward my own species, if we can be called such. We do not go gentle, as your poet encourages, into that good night.

A dead girl walks the streets.

She hunts murderers. Child killers, much like the man who threw her body down a well three hundred years ago.

And when a strange boy bearing stranger tattoos moves into the neighborhood so, she discovers, does something else. And soon both will be drawn into the world of eerie doll rituals and dark Shinto exorcisms that will take them from American suburbia to the remote valleys and shrines of Aomori, Japan.

Because the boy has a terrifying secret - one that would just kill to get out.

The Girl from the Well is A YA Horror novel pitched as "Dexter" meets "The Grudge", based on a well-loved Japanese ghost story.
I don't even know what I'm supposed to say about this book. On one hand we have a vengeful ghost of legend named Okiku, going with the same mold as the other girl in the well you're probably thinking of. You know, the one from The Ring. Only, instead of being utterly frightening, she just wanders around and stares at things and has fits about the number nine.
She is supposed to be a vengeful spirit, yet, after awhile she is content to wander around after the main characters like a ghostly guard dog. I found myself agonizingly waiting for her to exact her vengeance upon another soul. She does it rarely, despite having what the media would have me believe is a smorgasbord of child predators out there.
Our main character, Tarquin (Tark), named after the last king of Rome (what a legacy!), is the son of a powerful exorcist who, at one point imprisoned her demonically possessed sister in Tark's body and then promptly went insane. Yep, that's a thing. Anyway, Tarquin's cousin, Callie, also becomes mixed up in his story and they all go to Japan together in order to exorcise the ghost haunting Tark.
The dad is completely oblivious to all of this, a means to an end. Oh? You guys are okay at this creepy fucking shrine where my dead wife used to live but never told me about? Cool? You remember the last time she went here she went crazy right? Yeah, well.. I got work to do! Have fun kids!
A surprising chunk of the story, after the discovery that they pretty much need to get that ghost off of Tark's back, involves sight seeing and a goddamn hot spring. Yes, there is a nude hot spring scene. Is this an anime? Was there any point to this scene? Couldn't they have talked about Tark's past over tea or something more normal?
Inevitably, they screw up the exorcism and Okiku rushes in to save the day! Which, I mean to say, she fills the hole where the other ghost left and hangs out with Tark forever. It didn't really mention if she goes out for vengeance anymore. But, if she does, does she take him with her? Or is she just cool with the drudgery of normal teenagerdom?
Either way, meh. This book sounded so promising and started out so well. I could get over the weird prose and the flowery paragraph breaks to indicate urgency. I could get over the confusing shifts in point of view. I couldn't get over the huge buildup that went into sightseeing and a dull conclusion. I expected more from a horror book, even an young adult one. This one just fell flat for me.