I received this book for free from Audible, Netgalley, Purchase in exchange for an honest review. This does not affect my opinion of the book or the content of my review.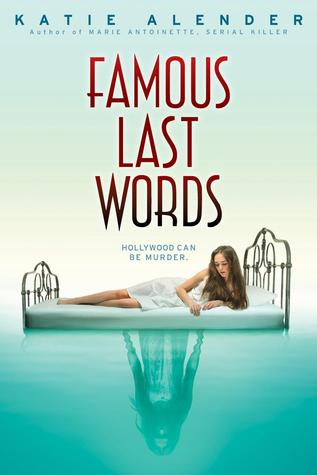 Famous Last Words by Katie Alender
Published by Scholastic Press on September 30, 2014
Genres: Mystery, Paranormal, Young Adult
Pages: 320
Source: Audible, Netgalley, Purchase
Goodreads


Amazon •
Hollywood history, mystery, murder, mayhem, and delicious romance collide in this unputdownable thriller from master storyteller Katie Alender.

Willa is freaking out. It seems like she's seeing things. Like a dead body in her swimming pool. Frantic messages on her walls. A reflection that is not her own. It's almost as if someone -- or something -- is trying to send her a message.

Meanwhile, a killer is stalking Los Angeles -- a killer who reenacts famous movie murder scenes. Could Willa's strange visions have to do with these unsolved murders? Or is she going crazy? And who can she confide in? There's Marnie, her new friend who may not be totally trustworthy. And there's Reed, who's ridiculously handsome and seems to get Willa. There's also Wyatt, who's super smart but unhealthily obsessed with the Hollywood Killer.

All Willa knows is, she has to confront the possible-ghost in her house, or she just might lose her mind . . . or her life.

Acclaimed author Katie Alender puts an unforgettable twist on this spine-chilling tale of murder, mystery, mayhem -- and the movies.
Keeping in the spirit of all things that go bump in this month, I decided to pick up another book featuring ghosts and psycho killers. I may have mentioned before that I am big fan of the slasher style YA mystery. I thought Famous Last Words was going to make the list of my favorites but unfortunately, I think this book is just going to end up on my list of so so YA horror. Why? Because the nicest thing I can say about Famous Last Words is I didn't hate it.
Famous Last Words is a book that I tried to read in the beginning when I got a copy off of Netgalley but I didn't finish it because I could tell right away this was going to be the kind of book I would have to listen to if I was going to make it to the end. I got the audiobook and immediately started to listen, excited to give this book a second chance. It wasn't horrible. It started out the way all these teen slasher novels start out with the heroine moving to a new town and ready to make a new start. Willa moves to Hollywood when her mother marries Johnathan, a movie director. Her father died a while ago and Willa blames herself because she argued with him right before he died. She decides to try a book on communing with dead but it doesn't go the way she planned. Willa finds herself being haunted by the ghosts in her step father's house. She meets Wyatt a boy at her new school obsessed with finding out who the Hollywood serial killer might be. Soon, Willa discovers a link between her ghosts and the Hollywood serial killer.
I didn't hate this book because it was creepy at times. I thought the part with hauntings was very What Lies Beneath. Famous Last Words had kind of that same vibe with Willa frantically searching for any clues while the ghost would not give up its quest for vengeance. That is what this book creepy because it was not a Sixth Sense or Ghost Whisper kind of thing. It was a haunting with cryptic words on the wall and dead girls swimming in the pool. Where this book falls short is after being creeped out the serial killer is kind of predictable. I kind of had it figured out and would have liked the book more if it had gone another direction. In all it wasn't a bad book and the ending was very nice and tidy.
I am giving Famous Last Words three stars because I didn't hate it. I didn't feel like I wasted my time. I just think it would have been a little bit better without the predictable ending. I kept hoping for something more shocking. The clues kept pointing to someone else and I kind of hoped for this person because it would give that What Lies Beneath feeling completely. It ended up with a neat and tidy ending with the killer being someone I could have cared less about. In the end, I am just giving this book a shrug.