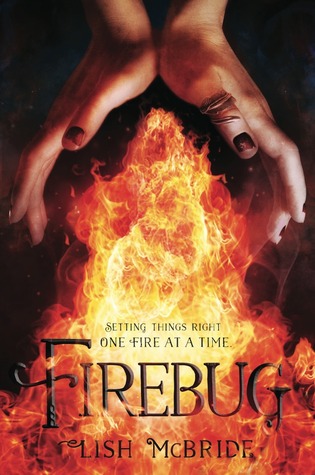 Firebug by Lish McBride
Series: Firebug #1
Published by Macmillan on September 23, 2014
Genres: Paranormal, Young Adult
Pages: 368
Source: Audible, Purchase
Goodreads


Amazon •
Ava can start fires with her mind . . . but is it a blessing or a curse?

Ava is a firebug—she can start fires with her mind. Which would all be well and good if she weren't caught in a deadly contract with the Coterie, a magical mafia. She's one of their main hit men . . . and she doesn't like it one bit. Not least because her mother's death was ordered by Venus—who is now her boss.

When Venus asks Ava to kill a family friend, Ava rebels. She knows very well that you can't say no to the Coterie and expect to get away with it, though, so she and her friends hit the road, trying desperately to think of a way out of the mess they find themselves in. Preferably keeping the murder to a minimum.
Keeping with this month's theme, I picked up Firebug because I knew it contained creatures that go bump in the night. I liked the first chapter so much that I didn't want to have to put it down that I got the audiobook to keep the fun going. Firebug for me is one of those rare treats, in that it is a Young Adult Urban Fantasy. It was like Jennifer Estep and Kirsten White got together to write a book. I liked the combination of the street savvy teens mixed in with lighthearted moments as well.
Firebug is about Ava and she of course is a Firebug. She is able to project and control fire with her mind. There is of course, a group that controls supernatural beings called The Coterie. It is run by a sadistic vampire named Venus. After Venus killed Ava's mom she agrees to work for The Coterie to protect her guardian Cade. Ava becomes a hit man for The Coterie working in a team of three with her two best friends. Things go from bad to worse when Ava and her team decide not to take a hit. Venus won't take no for answer.
Like I said, I really liked this book. It's got that Spider Assassin feel that I love about Jennifer Estep books but it is not as dark. I liked that Ava and her friends took time out from running around for their lives to still worry about normal teenage problems. It had a nice balance of silly and scary. I really liked Ezra, a shape shifting fox, who thinks he's god's gift to humanity. I liked that Ava is there to bring him back down to reality. I liked Lock who is a tree whisperer. I liked that there might be something brewing between Ava and Lock.
What I really liked about Firebug was the cast characters Ava, Ezra and Lock meet along the way. A pack of were hares that are fierce. A group of nyaids that definitely take a liking to Ezra. It was moments like that made this book. It was a nice contrast to running, screaming and general mayhem that seems to come along when underdogs try to take down a sadistic kingpin. Don't take my word for it, go read Firebug. This book had it all: blood flying, shape shifters, good-looking boys, steamy eye action, and of course scenes that made me laugh. I can't wait to read to the next book in the Firebug series. I am giving Firebug four stars because the narration was on par and it most definitely left me on nice cloud of happy.