This review contains spoilers. Read at your own risk.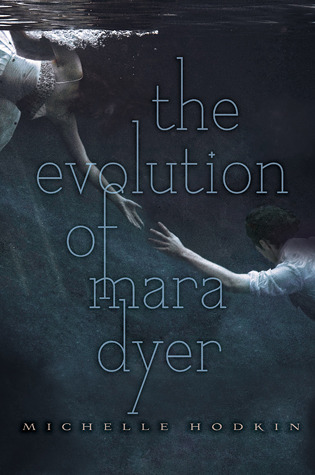 The Evolution of Mara Dyer by Michelle Hodkin
Series: Maya Dyer #2
Published by Simon and Schuster on October 23, 2012
Genres: Paranormal, Young Adult
Pages: 546
Source: Audible, Purchase
Goodreads


Amazon •
Mara Dyer once believed she could run from her past.
She can't.

She used to think her problems were all in her head.
They aren't.

She couldn't imagine that after everything she's been through, the boy she loves would still be keeping secrets.
She's wrong.

In this gripping sequel to The Unbecoming of Mara Dyer, the truth evolves and choices prove deadly. What will become of Mara Dyer next?
Since it is the season for all things creepy, with Halloween right around the corner, I could not help but put my two cents in on the Mara Dyer bandwagon because I will be reading The Retribution of Mara Dyer next week. I am in so much like with all things Mara and Noah right now. I could not put this book down it was just that good. I started the audiobook at work and had the book read at home that night.  I can hardly contain myself even though I just have to wait five more days for the thrilling conclusion. So, back to The Evolution of Mara Dyer and my thoughts on it. Wow, this book gave me the willes, made me swoon and then hit me over the head with the WTF stick.
If you have not read any Mara Dyer books then I am going to stop you right here because there are spoilers ahead.
At the end of The Unbecoming of Mara Dyer I was like what the what when she saw Jude alive. So, The Evolution picks up with Mara everyone thinking Mara has gone crazy. She has to go to psych evaluations and her a special program that is supposed to help her get better from her "delusions." The only person that believes Mara is still Noah. He knows Mara isn't crazy and that Jude is really out to get her. The plot thickens as Mara begins to have dreams that feel more a flashback to a past life in India.
The really creepy things that happen are when Mara begins to sleep walk. She wakes up to subtle changes in her own face. Like her cheek bones are a bit sharper than they were the day before. Even Mara begins to think that she might be going crazy. Or, that there is something even more sinister about her than being able to kill people with just her mind. I liked the idea of Mara and unreliability as a narrator. It would give me the chills to think that she could just going crazy. Plus there is something horrific about knowing that something is wrong and people are really out to get you but your own family just thinks you're nuts.
I really liked The Evolution of Mara Dyer. I think I liked this book even better than The Unbecoming because it was like everything just felt more intense. In The Unbecoming everything was being set up. Is Mara really powerful or is she crazy? Plus she is just starting to fall for Noah. In The Evolution Mara is ready for answers. She will get them but they may come at a steep price. Her and Noah fall off that ledge and go all the way into intense love. The make out scenes were hotter, the creep factor was amped and the cat & mouse game with Jude got very real.
I am giving The Evolution of Mara Dyer four stars because this book definitely left me on a nice cloud of happy. What is there not to like about hot British boys in tuxes, creepy dolls, and of course shocking revelations about people that were supposed to Mara. This book had me going so many ways I didn't know which way was up or down. By the end, I still don't know what to think except to know that I need no I must read The Retribution of Mara Dyer. The audiobook was narrated very well. It is read by Christy Romano from Even Stevens. She does a great job with the voices.  Go read or listen to these books because they will leave you swoony and confused but in a good way.