I received this book for free from Netgalley in exchange for an honest review. This does not affect my opinion of the book or the content of my review.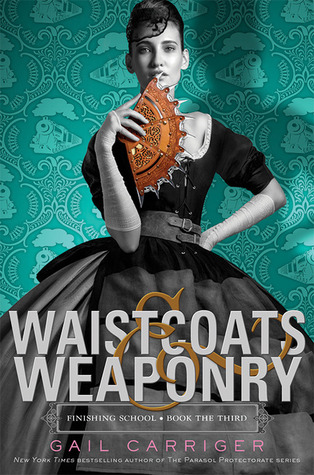 Waistcoats and Weaponry by Gail Carriger
Series: Paranormal, Steampunk, Victorian, young adult
Published by Little Brown Books for Young Readers on November 4th, 2014
Genres: Steampunk, Young Adult
Pages: 304
Source: Netgalley
Goodreads


Amazon •
Class is back in session...
Sophronia continues her second year at finishing school in style--with a steel-bladed fan secreted in the folds of her ball gown, of course. Such a fashionable choice of weapon comes in handy when Sophronia, her best friend Dimity, sweet sootie Soap, and the charming Lord Felix Mersey stowaway on a train to return their classmate Sidheag to her werewolf pack in Scotland. No one suspected what--or who--they would find aboard that suspiciously empty train. Sophronia uncovers a plot that threatens to throw all of London into chaos and she must decide where her loyalties lie, once and for all.

Gather your poison, steel tipped quill, and the rest of your school supplies and join Mademoiselle Geraldine's proper young killing machines in the third rousing installment in the New York Times bestselling Finishing School Series by steampunk author, Gail Carriger.
First, I have to say that I am a big fan of Gail Carriger and the world she has created. I was first introduced to this world in Soulless, an adult novel, and liked it so much that I had to start reading about the world of Victorian Paranormal Steampunk through the eyes of a young lady in training. I have to say that I have liked every Finishing School story I have read, and Waistcoats and Weaponry is no exception. The thing I like most about these books is that Soulless and Finishing School books can be read together or separate because they are two different stories told in the same universe.
What is to be expected from young ladies being trained in the art of espionage? Hijinks, balls, and flywaymen of course. Waistcoats and Weaponry picks up a couple months after the events of Curtsies and Conspiracies. Sophronia and her friends have a way of finding trouble and this book is no exception. In this installment Finishing School Book the third finds Sophronia and her best friend Dimity leaving the school to attend Sophronia's brother's engagement ball. Of course, trouble finds them there because their other friend Lady Kingair the granddaughter to werewolf is having some pack trouble. Sophronia agrees to help her friend get back to Scotland but the only form of transportation is an air dinghy. Along the way they steal a train and find themselves involved a plot that goes beyond just school yard antics. This plot could affect every steam service mechanical in all of the Empire.
I liked this book because the world is so rich and fantastical full of steam mechanicals that run on tracks and serve tea. Vampires and Werewolves working for the Queen. Plots and schemes, airships, and Victorian balls. I could go on but there is so much to love about these books. The thing I like most is the witty dialogue and outlandish names. Mrs. Barnclegoose is just one example of a name in this story that makes me smile. I think there is something so outlandish about a Gail Carriger book set in this world that it just lends itself to a jolly good time.
I had a good time reading Waistcoats and Weaponry. It was full of humor, swash buckling action, nail biting suspense. Of course, there is also balls, costumes, and handsome gentlemen. I love the balance of Sophronia proper lady and Sophronia intelligencer extraordinaire. I am giving Waistcoats and Weaponry four stars because I really liked this book. After the events at the end, I cannot wait to read the next book in the series.