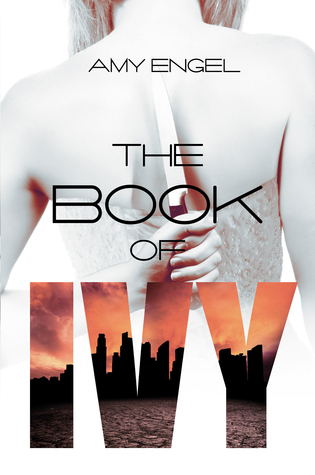 The Book of Ivy by Amy Engel
Series: The Book of Ivy #1
Published by Entangled Teen on November 11, 2014
Genres: Romance, Science Fiction, Young Adult
Pages: 304
Source: Audible, Purchase
Goodreads


Amazon •
After a brutal nuclear war, the United States was left decimated. A small group of survivors eventually banded together, but only after more conflict over which family would govern the new nation. The Westfalls lost. Fifty years later, peace and control are maintained by marrying the daughters of the losing side to the sons of the winning group in a yearly ritual.

This year, it is my turn.

My name is Ivy Westfall, and my mission is simple: to kill the president's son—my soon-to-be husband—and restore the Westfall family to power.

But Bishop Lattimer is either a very skilled actor or he's not the cruel, heartless boy my family warned me to expect. He might even be the one person in this world who truly understands me. But there is no escape from my fate. I am the only one who can restore the Westfall legacy.

Because Bishop must die. And I must be the one to kill him…
I saw this book as recommended reading on Amazon a few month ago. I thought this book looked interesting but was something I might listen to or read when I had nothing better to do. I was kind of surprised in a good way when I saw the audiobook available on Audible. I have to tell you I went into this book interested but I did have low expectations. I have to say in the end I am glad I gave The Book of Ivy a shot because I ended up really liking it.
I liked The Book of Ivy so much that I started the audiobook in the morning on my way to work, continued listening to the book off and on at work, and could not put it down that I finished it after work. The book is about a girl named Ivy who lives in post-apocalyptic society that marries girls and boys sixteen and over. In this society there were two factions that founded the town and after a battle the winning side decided that best way to keep peace was to arrange marriages between the two sides. Who wants to do battle with their own relatives? Ivy's marriage is arranged to the leader's son. Her family wants a revolution so they train Ivy to kill her soon to be husband.
Ivy doesn't plan on actually falling in love her husband, Bishop. Like I have I mentioned I liked this book because it was a love story. It was not just another story of revolution and warrior girls full of angst and anger. Don't get me wrong Ivy has angst and is full of anger and she is tough. I liked her that her strength came from her love. I liked that Ivy was willing to make some tough sacrifices to protect those she loves. I am sucker for a good romance and this book does not disappoint. I think I fell a little in with Bishop myself while listening to this book. It was very swoon worthy. Who doesn't fall in love with a man that is willing to help with the cooking, cleaning, and doing the laundry? In a society, when women stay at homes and have babies. Bishop is okay with waiting and being there for Ivy while she goes to work and tries to find herself. I loved that their relationship was a friendship first and love affair second.
I am giving The Book of Ivy four stars. I really liked this story it was very entertaining. I couldn't put it down. The narration was very entertaining as well. After the ending, I cannot wait to find out what happens to Ivy and Bishop next.