I received this book for free from Author in exchange for an honest review. This does not affect my opinion of the book or the content of my review.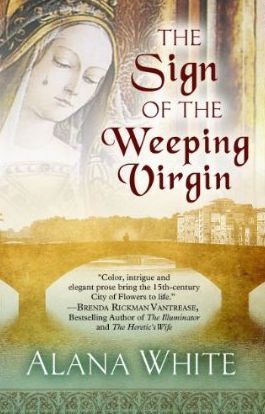 The Sign of the Weeping Virgin by Alana White
Published by Five Star on December 19th, 2012
Genres: Historical Fiction
Pages: 384
Source: Author
Goodreads

Romance and intrigue abound in The Sign of the Weeping Virgin' an evocative historical mystery that brings the Italian Renaissance gloriously to life.

In 1480 Florentine investigator Guid'Antonio Vespucci and his nephew' Amerigo' are tangled in events that threaten to destroy them and their beloved city.

Marauding Turks abduct a beautiful young Florentine girl and sell her into slavery. And then a holy painting begins weeping in Guid'Antonio's church. Are the tears man made or a sign of God's displeasure with Guid'Antonio himself?

In a finely wrought story for lovers of medieval and renaissance mysteries everywhere' Guid'Antonio follows a spellbinding trail of clues to uncover the thought-provoking truth about the missing girl and the weeping painting's mystifying—and miraculous?—tears' all pursued as he comes face to face with his own personal demons
Sometimes, when you love a book, you just can't get through it fast enough. You devour its entirety swiftly, and in the blink of an eye, it is complete. Other times when you love a book, you truly need to just savor it slowly, relishing the sensation as if to prolong the experience. The Sign of the Weeping Virgin was certainly in the latter category for me; I enjoyed every aspect of this book so much that I took a very long time to complete it.
This book came into my hands when I was contacted by the author, Alana White, who after enjoying my review of another Italian history book, requested that I read hers and share my thoughts. Instantly, I was flattered by her appreciation and respect for my experience and research in Renaissance Italy, and extremely excited that she would think of me in this way. To be recognized by a scholar in the field with far more credentials than myself is a wonderful feeling. Understand that her connection certainly doesn't bias my review, but considering the stories coming out recently about bad-behaving authors, it is nice to acknowledge those who really are gems. Alana White is a gem.
Now, to the book. The Sign of the Weeping Virgin begins in Florence two years after the Pazzi Conspiracy. Florentine investigator and Medici man Guid'Antonio Vespucci, has just returned from France and is immediately confronted with major issues that threaten Lorenzo de Medici's ('il Magnifico) grip on Florence, and the stability of the entire city.  A well known Florentine woman has gone missing, supposedly abducted by Turks, and if that were not quite enough to cause fear and panic, a Holy painting of the Virgin Mary begins to weep – signifying to some the Virgin's displeasure with Medici rule, causing great unrest. Guid'Antonio must get to the bottom of the disappearance and the 'miraculous' tears, all while attempting to reconcile his own place in this ever changing political landscape.
With reference to the whole, I enthusiastically applaud the author's stylistic choices in presentation. Alana White approaches the history in a way that clearly demonstrates her superior perspicacity of Renaissance Florence, and will thrill and gratify someone who is well educated on the topic. However, it is also expertly presented for a reader who may not have the academic background. She finds a magical middle ground where the information necessary is almost casually expressed, so that it is not overwhelming to grasp context, but fully represents the history and the major powers in play. It takes great skill for any historian to find a concise clear way of outlining one of the most complex and rich eras of history, and she has done so masterfully.
The treatment of massively significant historical figures in this book is also handled with great finesse. The writing manages to be reverent of many immensely influential characters, without over-romanticizing or essentializing their personalities. Figures like Lorenzo Medici, Amerigo Vespucci, Botticelli, da Vinci, and so many others are presented with genuine personalities and subtleties that make them human, rather than an idealized figure of eras long past. I can appreciate an author that allows a character to speak for themselves through action, without imposing their personal judgement or bias. Additionally, I enjoyed the imagery presented in the writing as both beautiful and accurate. Having been to Florence, many scenes sprung clear pictures to my mind, but even beyond that, descriptions of food, clothing and atmosphere were all quite artful, without being cumbersome.
The Sign of the Weeping Virgin is overflowing with an immense amount of little details to appreciate – so much so, that I will yet likely uncover more on subsequent re-reads. These little moments, often no more than a mere mention or half line,completely enriched my experience, and often left me smiling a giddy history-nerd smile behind the pages. One that stood out to me was the Lorenzo's exasperated interactions with his son Piero, for knowing that Piero will grow up to be widely known as the most disappointing Medici ("Piero the Unfortunate"), gave these brief mentions so much more meaning.
Another huge success of this book is its ability to bring together many varying aspects of Renaissance life. Many authors focusing in a historical context will choose one class – the nobles, or the peasants, and focus all their attention there. This book manages to showcase the lives of the nobles and political figures in the republic, religious life and its immense pressures, as well as the life of a woman in the Renaissance. But it does not stop there, for it also showcases the cultivation of art and culture and the major players of that, as well as the common folk, and even slavery. These personalized insights, however brief some may be, help to extrapolate the entirety of the human Renaissance experience.
This is a book I would recommend not only to historians and fans of Florence, but to all readers who are looking to expand their horizons. It is a fun read, a witty one, and yet will enthrall you with all the richness this historical period has to offer. Do not pass this one up. It will definitely be a favourite of mine for the whole year!
On a side note: Her recommendations for further reading and cited sources make me happy.