I received this book for free from Author in exchange for an honest review. This does not affect my opinion of the book or the content of my review.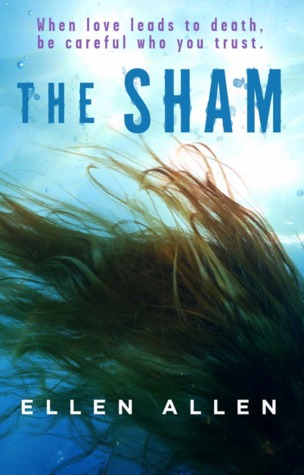 The Sham by Ellen Allen
Published by Book Baby on September 7th 2014
Genres: Horror, Mystery, New Adult, Thriller
Pages: 248
Source: Author
Goodreads

When love leads to death, be careful who you trust…

Eighteen-year-old Emily Heath would love to leave her dead-end town, known locally as "The Sham", with her boyfriend, Jack, but he's very, very sick; his body is failing and his brain is shutting down. He's also in hiding, under suspicion of murder. Six months' ago, strange signs were painted across town in a dialect no one has spoken for decades and one of Emily's classmates washed up in the local floods.

Emily has never trusted her instincts and now they're pulling her towards Jack, who the police think is a sham himself, someone else entirely. As the town wakes to discover new signs plastered across its walls, Emily must decide who and what she trusts, and fast: local vigilantes are hunting Jack; the floods, the police, and her parents are blocking her path; and the town doesn't need another dead body.

WARNING: THIS BOOK IS UNSUITABLE FOR YOUNGER TEENAGE READERS. IT DEPICTS ADULT SITUATIONS, MURDER SCENES, CONVERSATIONS ABOUT SEX AND PROFANITY.

NOTE FROM THE AUTHOR: The idea for this book came to me in a nightmare... It was so vivid that I imagined I was 17 again, at school, in the same group of 4 friends that I used to hang around with. We were involved in a murder and cover-up. I started writing partly as a way to get it out of my head and then the characters turned into real people... and Emily and Jack were born.

As some of the early reviewers have stated, it is quite extreme in chapter one, and necessarily so. This is the incident that sets up the whole book; something awful happens that sets off a train of events for the characters. This book is a mystery in two ways in that we're: 1) trying to find out who killed Emily's classmate; and 2) trying to work out who Jack is. I hope you enjoy it!
The author contacted me on Goodreads after seeing my review of The Walled City. Her book is nothing like the other, but it was still an interesting ride.
Cleavesham is a small town with the usual small town cliques and the usual small town drama. Everyone is related to everyone else, it seems. Even our main character is related, through marriage to other kids in her class. The book starts out with a dead body, bled out on the floor of Emily's family's shop. That's pretty shocking, how did it get there? What is even happening? Of course the book takes the back in time route to get you to that point.
The first scene that makes sense is Emily at the park with her little sister, and four girls from her class have kidnapped a small boy and are basically torturing him. It paints a very real picture of who these girls are and how they feel about consequences and other people's feelings. They're extremely sadistic, having broken some of the boy's bones in an attempt to try to make him bite off the head of a live bird. Emily is unable to stop them, despite having misgivings about the entire thing. At this moment a newcomer, Jack, fumbles upon the scene and stops it.
It's hard to get past that scene. It's a hard read. I almost set the book down forever. It's torture to the nth degree. The descriptions are not nice, and the characters involved have no redeemable qualities. Even once surpassing that, the book is mainly mystery. The girls involved in the torture begin to die one by one, and the newcomer is of course to blame. Emily tries her hardest to convince everyone that Jack is innocent, falling in love with him in the process, even though it becomes clearer as the story continues that Jack may not be everything he says he is. In fact, Jack may be a mental patient of some sort. Yet, even armed with that information, and the possible ramifications, Emily is still hopelessly in love with the guy.
I wasn't sure if I was going to like the book even though I do really like dark mysteries. And this was one that fell into a similar vein as the books written by Kate Karyus Quinn. Certainly there was less supernatural junk going on, but people were dying left and right and everything was confusing until the end. I almost stopped reading again when Emily almost drowns herself in a vat of jam by being an idiot. The book had been going nowhwere up until that point, but that reveal at the end was so satisfying. It's just a wonderful ball of awesome that cements everything together. The stuff about Jack afterwards was a little meh. If only the scenes were backwards, it would have let the book off on a strong note. Still, the ending moved the book's rating up a whole lot.
So, all in all, this book is a little bit gross, a little bit weird, and extremely satisfying.