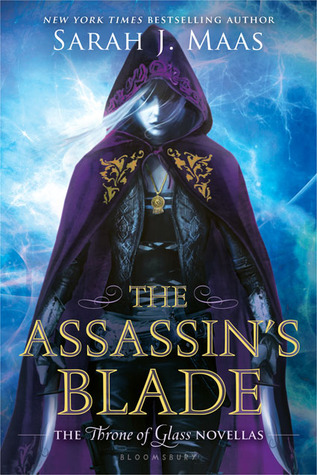 The Assassin's Blade by Sarah J. Maas
Series: Throne of Glass # 0.1-0.5
on March 3rd, 2014
Genres: Fantasy, Young Adult
Pages: 448
Source: Purchase
Goodreads

Contains all five novellas.

Celaena Sardothien is Adarlan's most feared assassin. As part of the Assassin's Guild, her allegiance is to her master, Arobynn Hamel, yet Celaena listens to no one and trusts only her fellow killer-for-hire, Sam. In these action-packed novellas - together in one edition for the first time - Celaena embarks on five daring missions. They take her from remote islands to hostile deserts, where she fights to liberate slaves and seeks to avenge the tyrannous. But she is acting against Arobynn's orders and could suffer an unimaginable punishment for such treachery. Will Celaena ever be truly free? Explore the dark underworld of this kick-ass heroine to find out.
So,  I've read Throne of Glass and it was just so-so for me. I didn't hate it, but I also didn't love it. Nothing really jumped out at me. For a story about an uber assassin, it was pretty dull, actually. And then, suddenly there were fairies. Unfortunately, there's been plenty of buzz going around for Heir of Fire and I've been sitting on the sideline listening to it. I'd been told by Nikki of There Were Books Involved, that the prequel novellas offer more insight and make the entire series just that much more interesting. So, I've decided to give them a try before I attempt to jump back into Crown of Midnight.
The Assassin and the Pirate Lord
This didn't start off too strongly, in my opinion. Most of it was Celaena being grumpy and sarcastic. Is she generally this caustic? I didn't notice her being overly bristly in the first book, but maybe I wasn't paying attention or maybe I thought it was warranted. Still, she's in full hatred mode for the entire novella. Granted, she originally thought that the Pirate Lord had brought about the murder of her dear mentor and friend. When that was revealed to be false, they went straight into slavery negotiations.
Oh yeah, that didn't fly with our intrepid hero. She, and her recalcitrant partner Sam decide they're going to break the slaves out. This plot thread lets the novella pick up from the rather dry bickering into something more substantial and it does end with a flourish. Doubtless. Sam and Calaena are going to have to deal with the consequences of their actions, which I'm assuming lend to her imprisonment at the beginning of the first novel. I could be wrong, but that looks like where this is going.
The Assassin and the Healer
This story was much shorter than the previous one, focusing on Celaena and her punishment for freeing the slaves. She is en route to visit some fancy silent murdering type in a desert, stuck in a back end town waiting for boats to arrive to give her passage. There's not much to do in the middle of nowhere, and Celaena finds herself itching for a fight.
She circumvents this by, after rescuing the barmaid, befriending her and teaching her self defense. That's all well and good but Celaena gets to talking to the girl and learns of the girls hopes and aspirations (to follow in her mother's footsteps and become a healer). The Celaena get's all mushy and sets the barmaid on the path to aspire to those dreams.  End story.
Hey, it was cute and all. Quite fluffy. I wonder if the barmaid shows up at some random point in the future? She seemed quite spotlighted just for her to slink off into the background and never be heard from again.
The Assassin and the Desert
This story was somewhat more interesting, once you got past the whining and the gallivanting about on the back of stolen horses. Celaena actually makes a friend in her dorm mate, Ansel. Though, clearly that was a mistake. Is this going to be a running theme where Celaena actually likes something and they're either an asshole or something horrible happens to them? It'd make it hard to get close to anyone, ever.
Anyway, Ansel, she's got some ornate armor. A wolf's head on her shoulder piece, which is fine. But then she also has a crouching wolf on the bridge of her nose? My friend came over so we could make her some armor for Teslacon, and I was discussing this bit of horrible design to her. Her response, "Nope, I'd just grab it and rip it right off." And, you know, if it didn't come off, we could use it as a handle to smash her head into the ground. Terrible design. Would not recommend. Can't teach assassination to a chick with useless bobbles on her face.
Celaena does get to train as she was set to the desert to do, but before she finished and received her letter of recommendation, Ansel drugs her and leaves her in the middle of the desert. I guess Ansel had a soft spot, as she was letting an army storm the assassin's keep. Celaena, of course heads back and helps defend. She defeats Ansel and let's the other girl go, because they're bros. Here's hoping Ansel shows up again just to be annoying. My body is ready.
After saving the keep and the mute master, she gets a real recommendation letter and is sent on her way! No more long nights thinking and pining about Sam in the dark. Because, damn, that shits getting annoying.
The Assassin and the Underworld
Alright, Celaena lost me for a bit there. After totally getting a lease on a new place, she does not, in fact, tell Arobynn to shove it. He makes pointed sighs and pets her hair and tells her how sorry he is and buys her really fancy and expensive Assassin's Creed type outfits. No, the outfit is cool, its got retractable knifes in the sleeves.  But still. He beat her up and she spent all summer mad at him, she should have left.
Arobynn instead gives her a task from some divorced nobel woman named Leighfer Bardingdale (which totally sounds like Leigh Bardugo, don't try to tell me it's not her being super evil in some sort of evil cameo). She's -supposed- to be stopping the slave trade, but when all is said in done, what she really does is facilitate it by ruining their fantasy version of the underground railroad. Good job Celaena.
It's only after this betrayal that she decides to leave Arobynn for good. She'd already given him her money, though not told him that she was moving out. He used the money to buy, Lysandra, this whore he'd been investing time and effort into. Pretty gross. But, anyway. She left him and his stupid butt, paying for Sam's freedom in the process.
Sam's not dead yet? This is starting to turn into Hot Tub Time Machine all over again.
The Assassin and the Empire
Okay, so I quite literally started this sometime in late September, and here we are almost to Thanksgiving and I finally finished this novella. It was such a hard read. I didn't care about Sam and Celaena anymore. I didn't care about their lack of luxury or their need to move elsewhere and get away from the guild of assassins. I didn't care about their budding romance. I just didn't. The looming nature of their demise only made this novella harder to swallow.
Unfortunately, having been double crossed and tricked in the past, they decided that they might as well throw all their eggs in one basket and attempt the hardest job of their lives. Why? Because it pays well and would allow them to leave the city and Arobynn behind. Nothing about this smells fishy at all, nope not a single thing. It's totally legit. Killing the largest crime boss in the city, along with his sadistic second in command, is just a walk in the park. Nothing bad could possibly go wrong. Nope. Nothing at all.
Except it all goes pear shaped and awful. Some of those romantic scenes were super hard to get through, because they kept talking like forever, and were waiting to consummate their relationship until Celaena was ready. The dude is gonna die, just throw him a bone. Gawd.
Anyway, their job fails and we end up with Celaena in the position she was at the beginning of Throne of Glass. And yeah, I guess the last couple pages were more my style. She was full of more vim and vigor and less whiny douchebaggery. I can see a spark of something I would enjoy. I mean, Throne of Glass was just meh for me and this book was as well. I don't -hate- them though. They're just low on my priority list. I'll give Crown of Midnight a go and see what I think.