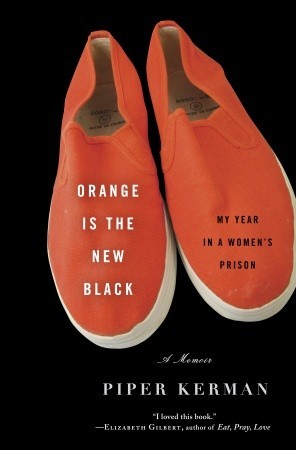 Orange is The New Black by Piper Kerman
Published by Spiegle and Grau on April 6th 2010
Genres: Memoir, Non-Fiction
Pages: 298
Source: Purchase
Goodreads

With a career, a boyfriend, and a loving family, Piper Kerman barely resembles the reckless young woman who delivered a suitcase of drug money ten years before.

But that past has caught up with her.

Convicted and sentenced to fifteen months at the infamous federal correctional facility in Danbury, Connecticut, the well-heeled Smith College alumna is now inmate #11187–424 — one of the millions of people who disappear "down the rabbit hole" of the American penal system.

From her first strip search to her final release, Kerman learns to navigate this strange world with its strictly enforced codes of behavior and arbitrary rules. She meets women from all walks of life, who surprise her with small tokens of generosity, hard words of wisdom, and simple acts of acceptance.

Heartbreaking, hilarious, and at times enraging, Kerman's story offers a rare look into the lives of women in prison—why it is we lock so many away and what happens to them when they're there.
Did you really give Orange is the New Black  a chance?
I think so. I, of course, picked it up after watching the first season of the show, some time last year. I mowed through about 54% of the book before losing momentum. I tried to pick it back up and get back into it, but I found I couldn't.
Have you enjoyed other books of the same genre?
I can't really say I read books about WASP-y chicks who end up in prison. What genre does this book even really fall under? A memoir of some sort? I think the only 'memoir' I've really read is that of a geisha.
Had you been looking forward to this book in particular? Why?
I was a little, because there's such an awful cliffhanger at the end of season one. Season two, although perfect, didn't leave me with that awful sense of foreboding that season one gave me. I didn't feel compelled to pick the book back up after how awesome Roza was.
Did you have certain expectations for the book before starting it?
A little. To be honest, the show is so much better. Like, a million times better. Pay the producer way more than you are, she's adapted the book into something much more interesting and dynamic. I liked Weeds, but it sort of lost me around the Mexican cartel babies. While, Orange is the New Black has a lot more going for it, it looks like it's grounded enough that it doesn't need to wander into weird territory. The addition of Alex Vaus is also a good choice, because Piper's actual lover was not described as anything you'd run away and be a drug mule for.
What ultimately made you stop reading?
Piper and her white privilege. She's the main narrator and ultimately the reason I had to stop reading this book. She was insufferable and even though she would attempt to tell the stories of the people in prison with her, she always just sounded like she was talking down about them. I don't need to deal with that sort of superiority in a prison book. And, honestly, the writing never really allowed you to connect with anyone else but Piper. I understand that it's her memoir, but she didn't paint the other people in the prison with her as anything other than things with which she was required to interact with.