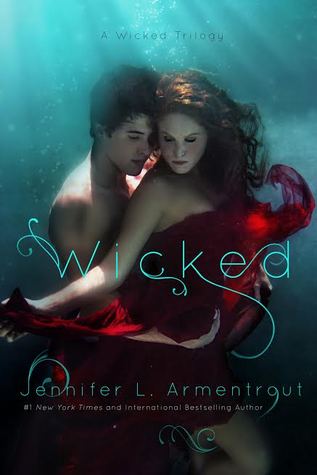 Wicked by Jennifer L. Armentrout
Series: A Wicked Saga #1
Published by Self Published by Author on December 8, 2014
Genres: New Adult, Paranormal
Pages: 371
Source: Amazon, Purchase
Goodreads


Amazon •
Things are about to get Wicked in New Orleans.

Twenty-two year old Ivy Morgan isn't your average college student. She, and others like her, know humans aren't the only thing trolling the French Quarter for fun… and for food. Her duty to the Order is her life. After all, four years ago, she lost everything at the hands of the creatures she'd sworn to hunt, tearing her world and her heart apart.

Ren Owens is the last person Ivy expected to enter her rigidly controlled life. He's six feet and three inches of temptation and swoon-inducing charm. With forest-green eyes and a smile that's surely left a stream of broken hearts in its wake, he has an uncanny, almost unnatural ability to make her yearn for everything he has to offer. But letting him in is as dangerous as hunting the cold-blooded killers stalking the streets. Losing the boy she loved once before had nearly destroyed her, but the sparking tension that grows between them becomes impossible for Ivy to deny. Deep down, she wants… she needs more than what her duty demands of her, what her past has shaped for her.

But as Ivy grows closer to Ren, she realizes she's not the only one carrying secrets that could shatter the frail bond between them. There's something he's not telling her, and one thing is for certain. She's no longer sure what is more dangerous to her—the ancient beings threatening to take over the town or the man demanding to lay claim to her heart and her soul.
In Wicked, Jennifer L. Armentrout, does it again and delivers another fantastic book. This time the heroine is up against the fae. The fae are not some sweet magical race that is just misunderstood. No, they are wicked and feed off the human. It is up to Ivy and her the Order she works for to fight the fae for the good of the human race. I really liked this book because it had everything I have come to love about a JLA book. It had a heroine that kicked butt and didn't take orders from a man. It had a wise cracking brownie named Tink. It, of course, had plenty of hot sexy fun times.
I really liked Ivy. I liked her vulnerability and her take no prisoners' attitude. Ivy was real because she had experienced so much lost in her life. When she meets Ren she begins to realize that she is tired of running from love. I liked the relationship between Ivy and Ren. I liked Ren because he was cocky and self-assured but there was also vulnerability to him as well. Ivy and Ren were both people that are messed up by the mistakes in their past. I don't think either of them would have fought so hard if they didn't know what it was like to lose someone. Ivy fought hard to push Ren away and Ren fought hard to make hold on. Plus it doesn't hurt that they had the kind of chemistry that sizzled off the page and was electrifying to read.
Besides, from the sweet romance, this book was also a paranormal mystery. There are two gates to The Otherworld, the home of the fae, as it gets closer to the equinox the doors can to the gates can be open. The ancient fae are killing Order members to find the location to the gates. Ivy and Ren have to investigate the fae in order to find out what purpose they could have for wanting to bring the prince of the fae through the gate for the first time ever. There is a lot of butt kicking and plenty of action ensues. It is the end of the book that had me on the edge of my seat and biting my nails. Holy moly, that ending, it was a cliffhanger that has me now chomping at the bit for the next book in the series.
I really liked Wicked and I am giving it four stars. It had great action and good paranormal mystery full of shocking revelations. It was a hot and sexy romance as well. Of course, Ivy's roommate and friend, a little winged fae creature that can quote Harry Potter and make Supernatural references.