I received this book for free from Netgalley in exchange for an honest review. This does not affect my opinion of the book or the content of my review.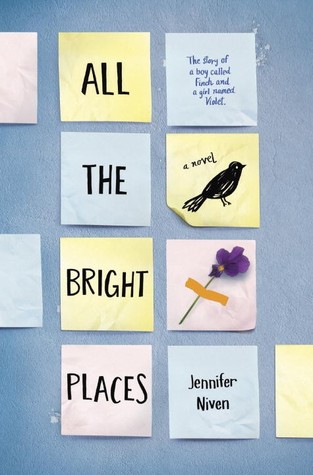 All the Bright Places by Jennifer Niven
Published by Knopf on January 6, 2015
Genres: Fiction, Romance, Young Adult
Pages: 384
Source: Netgalley
Goodreads


Amazon •
The Fault in Our Stars meets Eleanor and Park in this compelling, exhilarating, and beautiful story about a girl who learns to live from a boy who intends to die.

Theodore Finch is fascinated by death, and he constantly thinks of ways he might kill himself. But each time, something good, no matter how small, stops him.

Violet Markey lives for the future, counting the days until graduation, when she can escape her Indiana town and her aching grief in the wake of her sister's recent death.

When Finch and Violet meet on the ledge of the bell tower at school, it's unclear who saves whom. And when they pair up on a project to discover the "natural wonders" of their state, both Finch and Violet make more important discoveries: It's only with Violet that Finch can be himself—a weird, funny, live-out-loud guy who's not such a freak after all. And it's only with Finch that Violet can forget to count away the days and start living them. But as Violet's world grows, Finch's begins to shrink.

This is an intense, gripping novel perfect for fans of Jay Asher, Rainbow Rowell, John Green, Gayle Forman, and Jenny Downham from a talented new voice in YA, Jennifer Niven.
When I first started reading this book it didn't take long to figure out Finch's mental health issues reminded me of someone I know. I didn't think I would like this book because I usually don't like reading books with characters that hit a little too to home to be comfortable. This is not something I always discuss with strangers but I have a parent that was eventually diagnosed with bipolar disorder. Growing up we didn't know what it was so the extreme mood swings were normal just like they are for Finch's family. It is not the family's fault because living with someone with extreme mood swings is not easy because not matter how much you love them and they love you sometimes you just have to let them be if they don't want help. While my mom is getting help and things didn't turn out they do in this book, I can still relate to Violet and I think that is why I ended up liking this book in the end.
This book is about two troubled teenagers and the struggles they go through to try to heal. Finch is moody, unpredictable and also suicidal. He is also full of life, makes a person feel special, and loves with his whole being. Violet is healing from a terrible tragedy of losing her sister in a car accident. They find each other when both of them are thinking about suicide.
The story begins with both of them deciding not to take their own lives that day and becoming friends and then something more. The story is a journey to self-discovery through travel project they are working on about the interesting places to visit in their own state of Indiana. Finch challenges Violet by pushing her out of her comfort zones. Along the way they fall in love because it feels right. Along the way Finch may never know but he helps Violet heal her heart as well.
It is also a story about mental illness and how people only let you see what they want you see. It doesn't matter how close those two people because you cannot help someone who doesn't want to be helped.
I liked this story a lot because in the end it was a story of survival and I thought Violet was one of the bravest characters I had read about in a long time. In the face of all the tragedies she has to deal with in this story she still finds a way to live. I like that she also learns that is okay to remember her loved ones that have passed away and miss them every day. The thing I took away most from this book it is not dying that is brave it is finding the strength to wake up every day and asking for help it is needed. Living and finding a way to happy doing it is what takes strength and courage. I think this book is a good story because it shows how mental illness doesn't just affect the person but also the effects it has on friends, family and significant others. I am giving this book four stars because it was a really good read that needs be savored.