I received this book for free from Netgalley in exchange for an honest review. This does not affect my opinion of the book or the content of my review.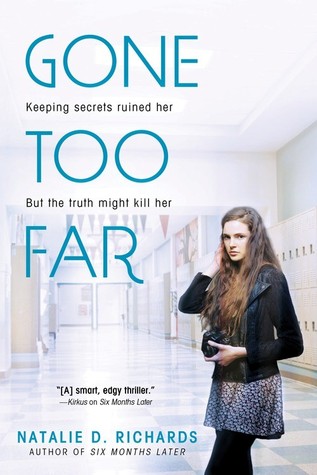 Gone too Far by Natalie D. Richards
Published by Sourcebooks Fire on January 6, 2015
Genres: Contemporary, Mystery, Romance, Young Adult
Pages: 304
Source: Netgalley
Goodreads


Amazon •
Keeping secrets ruined her life. But the truth might just kill her.

Piper Woods can't wait for the purgatory of senior year to end. She skirts the fringes of high school like a pro until the morning she finds a notebook with mutilated photographs and a list of student sins. She's sure the book is too gruesome to be true, until pretty, popular Stella dies after a sex-tape goes viral. Everyone's sure it's suicide, but Piper remembers Stella's name from the book and begins to suspect something much worse.

Drowning in secrets she doesn't want to keep, Piper's fears are confirmed when she receives an anonymous text message daring her to make things right. All she needs to do is choose a name, the name of someone who deserves to be punished...
I liked this book because it was an okay read. It was an easy read even though I didn't really care who the mysterious vigilante was. It was just one those books that quick and I liked but I didn't think it was the best thing since sliced bread. It was a bit predictable at times and I think I was expecting more of a thriller when I went into this book.
The book is about Piper who finds a notebook full of scandals about her fellow students. Then one day she over hears some popular jock guys hassling a girl for a sex video she was in. Then the girl goes out on the train tracks and get hit by a train. Whether or not it was an accident or if she was upset about being assaulted and having it filmed is never said. Piper knows she should have done something more before the video went viral to help the girl.
When Piper gets a mysterious text message from someone who know about the book and wants Piper help in making the kids pay that cheat or bully. Piper gives them the name of the person of the biggest bully in school. It is going great they take him down. They take down more school bullies, liars, and of course mean girls.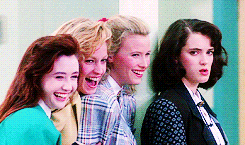 When the mysterious vigilante starts blackmailing Piper is when things get real. Piper has to get out of the mess she created without getting herself or loved ones hurt in the process.
Like I said I thought this book would be more of thriller I had the big reveal kind of figured out. There is a big thriller "I am going to kill you" moment but it is not from the person that I thought it would be. It was just book on the dangers of bullying and being judgmental. Not that isn't something everyone needs to learn but it was predictable. I did like that Piper learns that by thinking that the popular kids hate her she learns that hate and prejudice are a two way street. She has to learn to see the whole person and not just what she wants to see. By being able to put away her own judgmental view she give a chance at a relationship with a really great guy just in spite of the fact that he hangs out in the "in crowd." I am giving this book three stars because it was an okay book that I liked well enough.