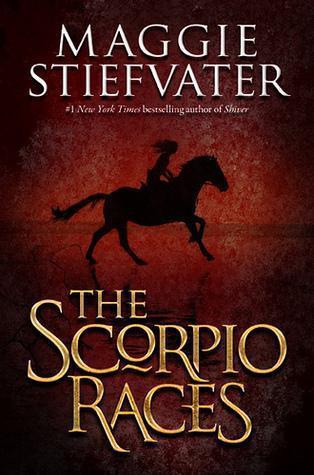 The Scorpio Races by Maggie Stiefvater
Published by Scholastic Press on October 18th 2011
Genres: Fantasy, Young Adult
Goodreads


Alright, hey. So, I've only read one of Maggie Stiefvater's other books and that book was The Raven Boys. I really loved that novel, it was awesome and interesting and different. But, then, I remembered that I had also tried to read Shiver, which was a little boring and ultimately didn't hold my interest when I tried to read it. I do love me some kelpies, though. They might be one of my favorite mythological beasts. The parts involving the flesh eating water horses were always interesting and generally full of blood. That was something I enjoyed. The parts in between though? Those were generally not full of blood or excitement. They were more full of slow meandering feelings, money troubles, aspirations, dreams and a slow romance that didn't ever have any heat behind it.

The dual point of views were read by two different people, and honestly the male reader blew the female reader out of the water. There were some weird areas where the audio was obviously spliced together and that became somewhat distracting, but the male reader was pitch perfect through the whole reading. His dulcet tones almost put me to sleep a few times, but he was otherwise melodious and his characterizations were spot on.

So, our main characters live on an island in an indistinct time period. It seems to be like the 20's or so, because there's an American businessman and he just reeks of the Gatsby. This was back when orphans could band together and boxcar children it up and corrupt rich people could monopolize a small island's infrastructure enough that one wouldn't question the eviction of orphans. Every fall, the ocean spits out these flesh eating water horses and every fall, people capture them, train them, and race them for glory.

Puck, who's parents were murdered by those horses, is an orphan who lives with her two brothers. The younger one clearly has some mental issues and the older one has decided, with the boys his age on the island, to go to the mainland to seek their fortune. Puck hates that idea, and instead of seeing the wisdom in letting her brother explore his outlets and maybe making more money, she demands that he stays and then decides in order to make him stay, that she'll compete in the races. So, her brother stays the extra weeks for the race, I guess to see if she dies or not?

Puck's entire storyline is a little annoying. Her initial reason for joining the race is petty, and then she refuses to ride one of the murderbeasts, instead opting to ride her little herbivore pony instead. That might be the worst idea in the history of ideas. Murderbeasts don't care if the horse looks like them, they eat it anyway. They're murderbeasts. She stubbornly stuck to her guns the entire way through the book though, even when when opportunity arose to ride a better, more carnivorous horse arose.  At some point, she actually needs the money first place provides, and so even if she wanted to stop racing, she couldn't.

Shaun on the other hand, I found to be much more interesting. The son of a racer, who's father died during a race when he was nine, who works for the horse breeder on the island, Shaun has one goal through the whole book. He really wants to own his father's horse, the horse he races every race and is four time champion with. The horse is like his family. He understands and loves that horse like no one's business and his employer has finally offered to let Shaun buy the horse, but only if the race that year is won.

Unfortunately, our two heroes can't both win the race and through their slow friendship and even slower romance, I just had this awful feeling of dread. Like, they can't both get what they want. Of course, they didn't. But, hey, at least no one died.

Overall, the book fell pretty flat for me. It just didn't do it for me. A lot of it was slow paced, despite everything. Had I been reading this book and not listening to it, I probably would have set it down much sooner. There's just something about being able to do something else while listening to an audiobook that forgives a lot of the deal breakers I get when I sit down and read a book. Anyway, this was unfortunately not as strong as The Raven Boys, and that's a disappointment.