I received this book for free from Edelweiss in exchange for an honest review. This does not affect my opinion of the book or the content of my review.
This review contains spoilers. Read at your own risk.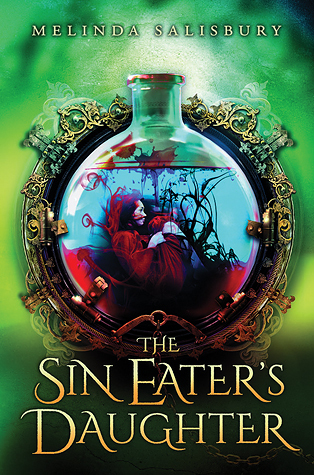 The Sin Eater's Daughter by Melinda Salisbury
Series: The Sin Eater's Daughter #1
Published by Scholastic Press on February 24th, 2015
Genres: Fantasy, Young Adult
Pages: 320
Source: Edelweiss
Goodreads

Seventeen-year-old Twylla lives in the castle. But although she's engaged to the prince, Twylla isn't exactly a member of the court.

She's the executioner.

As the Goddess embodied, Twylla instantly kills anyone she touches. Each month she's taken to the prison and forced to lay her hands on those accused of treason. No one will ever love a girl with murder in her veins. Even the prince, whose royal blood supposedly makes him immune to Twylla's fatal touch, avoids her company.

But then a new guard arrives, a boy whose easy smile belies his deadly swordsmanship. And unlike the others, he's able to look past Twylla's executioner robes and see the girl, not the Goddess. Yet Twylla's been promised to the prince, and knows what happens to people who cross the queen.

However, a treasonous secret is the least of Twylla's problems. The queen has a plan to destroy her enemies, a plan that requires a stomach-churning, unthinkable sacrifice. Will Twylla do what it takes to protect her kingdom? Or will she abandon her duty in favor of a doomed love?
I first heard about this book from Nikki at There Were Books Involved. I promptly forgot about it until my friend Jackie came over for a week long visit and we somehow got on the topic of how I periodically review young adult books. She then told me that her friend Mel was publishing a book, and named it. That brought Nikki's WoW post back into a new light and I was super excited for it ever since.
I'm sorry to say that it didn't live up to my expectations. Though, honestly, I set the bar pretty high. I've heard this book compared to Shatter Me and Graceling, but I've read neither of those, so I can't make those comparisons. And, honestly, it really only fell flat in a certain area for me. Most of the book is pretty awesome and creative. I especially liked the idea of Sin Eating, which, once I looked up is actually a form of religious magic that exists in many ancient cultures. The book described specific foods be laid out for specific misdeeds, and the Sin Eater herself as a massive woman with various scruples. Overall, the flashbacks to the rituals were some of the most interesting parts of the book for me.
Twylla is a bit of a pushover. At one point I compared her to Sansa Stark before all the family murder. She's still very much on the porcelain part of the Sansa Stark spectrum. She takes poison without questioning, and her touch is used to execute condemned criminals. Though, at this point, I began to question the validity of that claim, because that would mean it's coming out of her pores. The royal household and their servants didn't feel the need to take much precaution outside of touching her directly. What of the dining area she sat at? What of her silverware? What of her bedding? What of her clothes? What of her regular baths? Wouldn't those all be poisoned as well? No one seemed to care. I guess, theoretically, in a somewhat lower scale society lacking science, that would make sense on the surface, but in actuality, it made no sense to me.
Which, I guess, was the point because after a certain area of the book, Twylla realizes that she's not poisonous after all and that it's all been for show. A poorly constructed farce, if you will. Though, it seems that anyone who had any hint that it was a farce outside of the ruling circle, ended up dead or maimed.
There's some standard political plots going on, with people dying to suit the needs of those who wish to stay in power, regardless of being a threat of any massive proportion or not. There's also some fantastical elements added to the political plot. Despite wanting to go to war, they also want free flowing gold, and the only way to get free flowing gold is to raise some sort of heart eating demon prince who's been asleep for five centuries. It doesn't seem like a really good plan, and the book itself doesn't go into what will happen if, perhaps, the prince doesn't like the economic and political change that's happened over the course of his slumber and instead wants to change it. What happens when they can't control this awful beast that they've summoned? I guess that will be dealt with in a later book, but so far, outlook is awful, at best.
The one issue I had with this book was the head over heels love interest and the technical love triangle. But, really the one part of the triangle was more of a Sturmhond thing, with more an moral idea of duty and honor than any sort of feelings or chemistry. Still, the main love interest Lief, and his story line is that of a nineties romantic comedy. Granted, I was really into those at one time, but the whole 'paid to seduce/falls in love with' plot has gotten old and tired for me. Plus, Marek's acceptance of her love for Lief was a little annoying. He was more of a pushover than Twylla was about it. He didn't care that she slept with the guy. And Twylla didn't care that Lief had betrayed her. It was all void of outrage where outrage should go. The person who was the most outraged by any of it was the queen and she was playing a ruse. Ugh.
Anyway, the romance ruined this book for me. I'm super curious about the implications of a risen cursed prince, so I'll probably read the next one. That romance though, why. Why you gotta be that way? Why? Bleh.