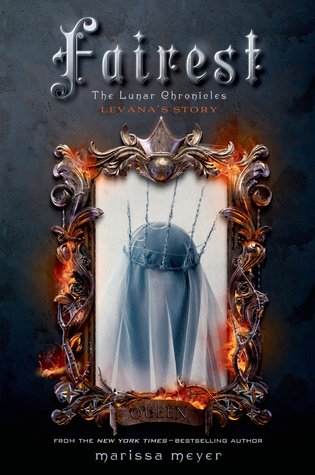 Fairest by Marissa Meyer
Series: Lunar Chronicles #0.5
Published by Feiwel & Friends on January 27th, 2015
Genres: Science Fiction, Young Adult
Pages: 256
Source: Purchase
Goodreads

In this stunning bridge book between Cress and Winter in the bestselling Lunar Chronicles, Queen Levana's story is finally told.

Mirror, mirror on the wall,
Who is the fairest of them all?

Fans of the Lunar Chronicles know Queen Levana as a ruler who uses her "glamour" to gain power. But long before she crossed paths with Cinder, Scarlet, and Cress, Levana lived a very different story – a story that has never been told . . . until now.

Marissa Meyer spins yet another unforgettable tale about love and war, deceit and death. This extraordinary book includes full-color art and an excerpt from Winter, the next book in the Lunar Chronicles series.
So, this is the book they used to shoehorn out Winter and make us wait for it. Still not sure that that was worth it. Sure, it's a fancy little tidbit, but they didn't have to postpone a book that was a) the end of a series and b) already finished in order to release it. After being teased year after year by George RR Martin, I'm always a little upset when books I actually want are pushed back for any reason, especially silly reasons. Dear publishers, just don't. Don't play with my feelings like that. I'd appreciate it.
I expected maybe a little bit of sympathy towards Levana, and while it appears that she was Sandor Clegane'd as a child, that's about as far as the sympathy wagon went. Past that, she was manipulative and frighting, her justifications gossamer threads to weave together her sanity and her own self narrative. She exhibits standard crazy, destructive behavior. She changes the past to suit her needs, clings to truth no matter the falsehood, and otherwise manipulates everyone around her in order to maintain the life she has envisioned for herself.  She doesn't nicely manipulate them, no she gets in their heads and makes them murder people or pretends to be their dead ex-wife in order to get them to love her. Everything she does is a violation of basic trust and a lot of it made me feel really slimy. Just reading her justifications made me a little sick to my stomach.
While it was somewhat fascinating to read in the same way staring at a car crash is, it didn't add anything to the story that couldn't have been said in different places. It didn't really offer new insight into Levana's character or her motivations. All it was was filler. And while that can be fun sometimes, why? Why did we need filler?
Anyway, the end of the book was a four chapter preview of Winter, and that was interesting in and of itself, but as the last chapter came to a close, I just wanted to read the rest of it and was upset that it wasn't currently in my hands. Guess November isn't a whole year, but it's still a long time.