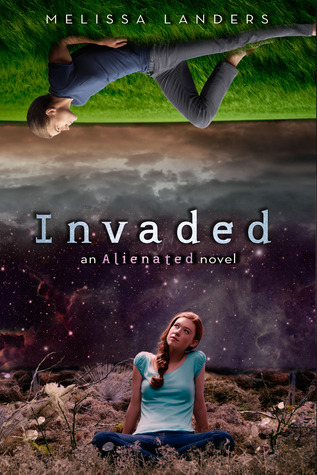 Invaded by Melissa Landers
Series: Alienated #2
Published by Disney-Hyperion on February 3, 2015
Genres: Young Adult
Pages: 368
Source: Audible, Purchase
Goodreads


Amazon •
The romantic sequel to Alienated takes long-distance relationships to a new level as Cara and Aelyx long for each other from opposite ends of the universe...until a threat to both their worlds reunites them.

Cara always knew life on planet L'eihr would be an adjustment. With Aelyx, her L'eihr boyfriend, back on Earth, working to mend the broken alliance between their two planets, Cara is left to fend for herself at a new school, surrounded by hostile alien clones. Even the weird dorm pet hates her.

Things look up when Cara is appointed as human representative to a panel preparing for a human colony on L'eihr. A society melding their two cultures is a place where Cara and Aelyx could one day make a life together. But with L'eihr leaders balking at granting even the most basic freedoms, Cara begins to wonder if she could ever be happy on this planet, even with Aelyx by her side.

Meanwhile, on Earth, Aelyx, finds himself thrown into a full-scale PR campaign to improve human-L'eihr relations. Humans don't know that their very survival depends on this alliance: only Aelyx's people have the technology to fix the deadly contamination in the global water supply that human governments are hiding. Yet despite their upper hand, the leaders of his world suddenly seem desperate to get humans on their side, and hardly bat an eye at extremists' multiple attempts on Aelyx's life.

The Way clearly needs humans' help . . . but with what? And what will they ask for in return?
After the long, very much-anticipated wait, I finally got my hands on Invaded and finished it forty-eight hours.  It was worth the wait because oh wow I really liked this book and maybe a little bit more than the first book.  This book picks up right where the first book, Alienated, left off with Cara staying behind on L'eihr and Aelyx leaving to go back to Earth.  This book deals with the trials each on faces as they struggle to be apart and continue the mission to save Earth.
I really that the first book was about acceptance, love and understanding.  I would say this book only strengthens those values with a much more in-depth look at another's way of life.  While the romance between Cara and Aelyx took backstage for most of the book, I did like that Invaded offered more intrigue, enemies around every corner, and so much more action.  It was an entertaining listen that was never boring.  I liked that I never knew who the enemies were.  Even I was thrown for loop at the end that had some devastating consequences.
I liked that Invaded was also not just about Cara and Aelyx.  I liked that this book was filled with hair-raising moments, touching moments, but most of all it gave me what I was looking for the most, a look into L'eihr.   I liked that as a reader I got to know Cara's brother Troy better.  Find out his plans for after the US Military.  Spend sometime in a L'eihr nursery seeing how the children grow up.  There is something fascinating about an Alien race and how they live.  Most of all I liked that Invaded my heart-break one moment and then soar away the next.
The audiobook narrator is Madeleine Lambert.  She isn't a bad narrator.  I would have liked her narration better if she didn't have to make Aelyx sound like he was whispering every time he spoke.  She didn't detract from the story overall and that is what I really look for in a narrator.  All in all Invaded the audiobook was really good and I am glad it was worth the wait. I am giving Invaded four stars because I am definitely looking to reading more.