I received this book for free from Netgalley in exchange for an honest review. This does not affect my opinion of the book or the content of my review.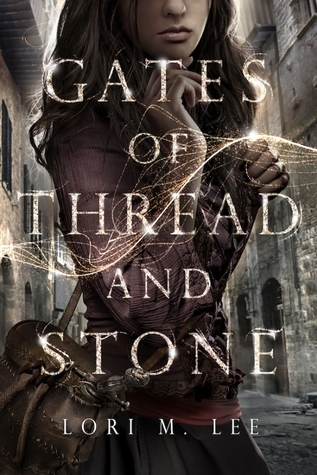 Gates of Thread and Stone by Lori M. Lee
Series: Gates of Thread and Stone #1
Published by Skyscape on August 5th, 2014
Genres: Fantasy, Young Adult
Pages: 335
Source: Netgalley
Goodreads

In the Labyrinth, we had a saying: keep silent, keep still, keep safe.

In a city of walls and secrets, where only one man is supposed to possess magic, seventeen-year-old Kai struggles to keep hidden her own secret—she can manipulate the threads of time. When Kai was eight, she was found by Reev on the riverbank, and her "brother" has taken care of her ever since. Kai doesn't know where her ability comes from—or where she came from. All that matters is that she and Reev stay together, and maybe one day move out of the freight container they call home, away from the metal walls of the Labyrinth. Kai's only friend is Avan, the shopkeeper's son with the scandalous reputation that both frightens and intrigues her.

Then Reev disappears. When keeping silent and safe means losing him forever, Kai vows to do whatever it takes to find him. She will leave the only home she's ever known and risk getting caught up in a revolution centuries in the making. But to save Reev, Kai must unravel the threads of her past and face shocking truths about her brother, her friendship with Avan, and her unique power.
Here's the deal, everyone. This book wasn't bad, but it was extremely predictable and not that great either. Honestly, I didn't hate it, but I didn't love it either. The world building and the characters could use a bit of beefing out, and I bet this could be a really awesome series, but as it stands right now, there's a lot of potential and not a lot of execution.
As we travel down this lane of predictability, we have our protagonist, Kai. The girl doesn't remember anything before the age of eight. That's a bit suspicious all on it's own. But, you know what, I let it slide. She lives with her adopted brother Reev. Now, Reev adopted her, just found her one day and said, "You know what, I'm a poor young boy who can barely support myself. I could totally use a dependent."  The most memorable things about Reev are that a) he works in a brothel and b) he has a mysterious tattoo on his back that he doesn't ever let Kai fully see. Unfortunately for Reev, he doesn't actually cover it fully either. Which, is weird, because it's a pretty standard tattoo around those parts and has significant meaning. Guess a turtleneck all the time forever is impractical.
Anyway, Kai lives in a totalitarian dictatorship run by what is assumed to be some sort of magic wielder. Except, he's like the only one, or should be. Kai, herself has some magic. She can slow down time and reset days and a lot of other weird things that aren't fully touched on, because honestly her magic powers aren't the main focus of the book. Except that they are, in a different sense, just not a practical one. She lives in poverty, and she and Reev are slowly saving up pennies to move into a better part of town. They keep track of each other's well being throughout the day by making little marks on posts they frequently pass and when Reev's mark doesn't appear for quite some time and he doesn't come home, that's when Kai frantically begins her search. It's been like ten hours tops, and she's already gallivanting off after him.
She's accompanied by immortal Peeta, Avan, who really get's messed up. Good thing he can heal like Wolverine. Anyway, I think he's supposed to be the love interest? Possibly? But he's the shopkeeper's son, who helps her by giving her food but he's also got the playboy thing going for him where he has a fantastic string of lovers in his wake. So, really most of Kai's interactions with him are like, "Oh, I thought you wanted to bone that other person over there." "I'm sorry, what?" "Forget I said anything." And then they get really close to kissing but don't.
So, they go on this grand adventure to try to rescue Reev from whom they assume is his kidnapper, only to find that there's so much more intricate and wacky stuff afoot. And, honestly, once you realize what sort of tangled web the author is trying to accomplish, you realize it's not so tangled after all and everything is pretty much straightforward from there on in.
Finding that their princess is at another castle, the two adventurers go undercover to try and liberate him. Unfortunately, I don't know if it was a typo or what, but at one point, one of the people who did not know their real identity referred to them by their real name, and I was just completely thrown out of the story. It was unfortunate, but I found I didn't really care after that point. Even with all the crazy reunions and Tuxedo Mask mind wipes and deaths, I just sat on my pedestal of whatever.
Anyway, I'll give the second book a shot. This one didn't really muster anything negative or positive from me. The implications of the characters in charge, though they haven't really been given much of a personality, intrigue me more than the main character and her issues. So, I kind of want to see where the series is going, but I also kind of don't care.